Sweet chariot ride! Hamilton hauls Triumph Rocket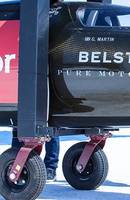 It's common wisdom that behind every great wheel lies another great wheel.
Case in point: Check out this video featuring the Triumph Infor Rocket Streamliner preparing for greatness just moments before it clinched the land speed record for the world's fastest-ever Triumph motorcycle on Utah's Bonneville Salt Flats, reaching a speed of 274.4 mph. The maintenance dolly that supports this aerodynamic powerhouse is rolling on none other than "you guessed it" Hamilton casters. Only the best for setting a land speed record with a carbon fiber motorcycle.
Piloted by Guy Martin, the streamliner bested the previous Triumph record of 245.667 mph. Powered by what essentially amounts to two street-legal motorcycle engines strapped together with a combined 1,000 bhp at 9,000 rpm, the streamliner was built with American ingenuity by mechanical engineer Matt Markstallar. He and his team were inspired by aerodynamic outlines developed by NASA to build the Rocket. "We used something called computational fluid dynamics modeling, which is like a virtual wind tunnel," he said. "This enables us to continually adapt the design to achieve maximum efficiency."
This was the first bike design for Markstallar, who has plenty of hot rods, Interstate Racing sprinters and Bonneville cars under his belt. He said he wanted to make a modern-day assault vehicle that combines all the racing prowess of the Triumph-powered Land Speed Record vehicles of the 1960s with today's technology in engineering, aerodynamics, safety and power-plant performance.
They say the conditions were perfect that day in August 2016 when the Rocket claimed the record at 8:30 a.m. We're proud to have been a part of that cycle to victory.
After all, one good turn deserves another.
Hamilton Caster
1637 Dixie Highway
Hamilton OH 45011-4041
Phone: 513-863-3300
url: http://www.hamiltoncaster.com/
More from Electrical Equipment & Systems