Sun Glo Plating Company Now Offering Complete Range of Metal Fishing Services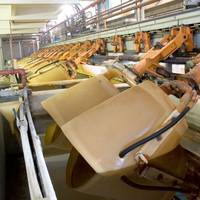 In an effort to empower customers with everything they may need, an industry leader in metal finishing has expanded its services.
CLEARWATER, FLA. (PRWEB) MAY 22, 2018 - Representatives with Clearwater, Florida-based Sun Glo Plating Company, announced today that the company is now offering a complete range of metal fishing services.
"From coating to plating and cleaning to polishing, we offer a complete range of metal finishing services," said Dave Brackenhamer, director of business development and spokesman for Sun-Glo Plating Company.
Brackenhamer went on to point out that for Sun Glo Plating Company, employing an on-site chemist and rigid quality control standards allows for customers to be confident in the end product.
"Combine this with state of the art automation and technology and your job will be delivered on time," Brackenhamer said.
As for how customers rate Sun Glo Plating Company's services, one customer identified as David Schwanke, said Sun Glo is his go-to place.
"They have some of the most knowledgeable people in the business," Schwanke stressed, before adding, "They offer as wide range of finishing processes so I can go to one place for almost everything."
But he isn't the only one raving about Sun Glo Plating Company's services. Robert Sipes with Florida Metal Services, Inc., said his company has been working with Sun-Glo Plating Co for over 25 years and recommends the service to everyone.
"Our experience with them is exceptional," Sipes said. "They are professional experts in the plating and finishing industry. Their commitment to quality and their technical expertise in my opinion is second to none. And we look forward to many more years to come of continued support by Sun-Glo. We don't just consider them an excellent supplier, but a partner in our business."
For more information, please visit http://www.sun-glo.com/services/ and http://www.sun-glo.com/about/
About Sun Glo Plating Company
Working in partnership with our customers, we continue to add services, increase capacity, refine procedures and improve quality. This commitment has allowed for unprecedented growth and to gain a reputation as one of the nation's leading finishers. There is much more to plating than "dipping and shipping." We have over 30 years' experience providing expert advice for both small and industrial sized clients.
Media Contact: 
Dave Brackenhamer
14493 62nd St N, 
Clearwater, FL 33760, USA
Phone: 800-741-1456
Related