Sumix Collaborates with 3M in Support of Introduction of New Expanded Beam Optical Connector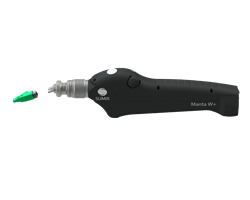 Provider of High-End Optical Inspection Solutions Collaborates with 3M to Enable Rapid and Efficient Implementation of Next Generation Connector
Oceanside, CALIF. (PRWeb) April 15, 2019
Sumix Corporation (http://www.sumix.com), announces its collaboration in support of the introduction and implementation of the new 3M™ Expanded Beam Optical Connector. Sumix developed and introduced a new adapter for the industry leading Manta-W+ fiber inspection microscope to effectively inspect and test the new connector end face.
The Sumix Manta-W+ inspection microscope with the new tip was on display at OFC 2019, the Optical Fiber Communications Conference and Exhibition, in San Diego March 5-7, in both Sumix and 3M's booths.
3M™ Expanded Beam Optical Connector is based on a revolutionary expanded beam ferrule and connector design that combines high performance with reduced sensitivity to dust compared with PC (Physical Contact) type connectors. But even the best connector must be effectively inspected to confirm that it is clean and not damaged. 3M is developing an ecosystem for its new Expanded Beam Optical Connector System and is announcing its collaboration with Sumix to develop dedicated adapters along with pass or fail criteria for inspection of 3M connectors. The Manta-W+ with new adapters and software will help ensure that data center, laboratory, and manufacturing customers can implement the new connector system efficiently and quickly.
"We've reimagined fiber optic connectors," said Nick Stacey, Ph.D., global laboratory manager at 3M. "Working with inspection tool specialist Sumix will help us enable scalable deployment."
"Sumix is always at forefront of the latest technological advances, rapidly engineering and offering innovative inspection solutions for every available connector type in the industry," said Farhad Towfiq, Sumix President. "We also work with our customers to develop custom solutions, including specialized adapters and developing software with industry standard or customized pass/fail criteria."
The Manta-W+, part of Sumix' proven, industry standard platform of fiber scopes including SMX-Manta, SMX-Manta+, and Scopio series, can be used as both a probe and a benchtop microscope, applicable for field use, as well as lab and manufacturing. Manta-W+ supports all standard connector ferrule types including MPO, LC, SC, SMA, E2000™, AVIM™, Mini-AVIM™, and many more, both patch cords and bulkhead, with an extensive selection of interchangeable tips available.
About Sumix Corporation
Sumix Corporation (http://www.sumix.com), a software and manufacturing company, is producer of high-resolution 3D Interferometers and portable 2D inspection probes for testing and verifying fiber optic connectors. Privately-owned, and based in Oceanside, California, Sumix has been designing and manufacturing optical and imaging products since 1999.
Contact Information
Kate Shevchenko
Sumix
http://www.sumix.com
+1 (760) 529-6396
Liliya Klyamar
Sumix
http://www.sumix.com
(760) 529-6396
More from Fluid & Gas Flow Equipment