Stockholder Doubles Cutting Productivity with Kasto Bandsaw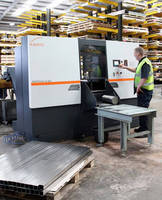 Cutting-to-length of aluminium and stainless steel stock is performed twice as quickly at the Coventry centre of Richard Austin Alloys (RAA), following the replacement of an ageing bandsaw with a KASTOtwin A4x5 in June 2012.

Having 440 x 520 mm cutting capacity, the double column machine is able to process all of the company's existing sizes of round and flat bar, tube, angle and box section, as well as larger stock that the company intends to introduce in the future. Sheet and plate is cut on site using a guillotine.

Warehouse manager Steve Pope commented, "The KASTO bandsaw really flies through aluminium, at the same time keeping the ends of the material square.

"It now takes us 1.5 to 2 minutes to cut through a 150 mm diameter aluminium bar, depending on blade condition, whereas with our old saw the same cut would take 3 to 4 minutes to achieve the same accuracy and blade life."

Higher productivity has increased the Coventry facility's profitability from this value-added process. It is also benefitting RAA's customers, who normally receive their cut material the next working day, rather than in two days from placing the order. 24-hour operation four days a week, plus Friday and weekend working, ensures plenty of capacity to meet demand using one saw.

Currently, 70 per cent of the material processed by RAA is aluminium, the remainder being various grades of stainless steel. Key to the greater cutting productivity is the rigidity of the KASTOtwin's structure, allowing the 38 mm wide bimetal blade to run at 120 m/min through aluminium and at 25 m/min through stainless steel, without vibration. (Band speeds in the range 15 to 150 m/min are programmable).

Downfeed rates are therefore higher than previously and are set automatically by the KASTO programmable logic control system, BasicControl, according to material type, size and section. The control can store up to 99 programs comprising material specification, length of billets and number required.

Another advantage of the new saw, according to Mr Pope, is the material saving resulting from KASTO's automatic zero position function, which employs a laser to detect the end of the material prior to accurate, ballscrew-driven infeed of the stock for the first cut. It avoids having to trim about a centimetre from the front end of the stock before producing the first cut length, saving material and blade life.

Material height is also detected automatically, allowing rapid hydraulically-actuated downfeed of the blade before cutting starts, hence shortening the cycle time.

Mr Pope continued, "The way the vice is arranged on the KASTO bandsaw allows the material rest-piece to be typically six centimetres shorter than on our previous machine.

"Together with the saving from not having to take a trim cut, it means that we save over 10 per cent of a six-metre bar and a bigger proportion of shorter stock.

"It results in significant cost savings and hence higher profitability, especially when cutting stainless."

The KASTOtwin A4x5 is a new bandsaw in the German manufacturer's range. Its 440 x 520 mm cutting capacity sits between 400 x 400 mm for the A4 and 560 x 630 mm for the A5, yet the machine's price is much closer to that of the smaller machine. The difference was so small that RAA did not think twice about opting for the 4x5 model, which is the first to be installed in the UK.

Mr Pope concluded, "KASTO has a reputation for building high quality machines and we can certainly see that in our new bandsaw. It achieves exactly what it states in the brochure and is proving very reliable, which is important to us as all of our cutting is done on the one saw.

"We were expecting improved sawing performance but have been surprised, not to say delighted, at just how massive a difference the machine has made to our operations."

KASTO Ltd, Unit 5, Garamonde Drive,

Wymbush, Milton Keynes, MK8 8DF.

Tel: 01908 571590. Fax: 01908 566106

E-mail: sales@kasto.uk.com

Web site: www.kasto.uk.com

Contact: Ernst Wagner, Managing Director.

THE RIGHT IMAGE Ltd,

PO Box 42, Twickenham, TW1 1BQ.

Tel: 020 8891 0603.

E-mail: chris@therightimage.net

Web site: www.therightimage.net

Contact: Chris Wright.

More from Material Handling & Storage