Staubli Fluid Connectors Keep Electronics Cool at SC19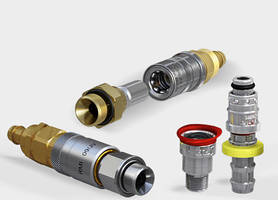 More powerful components and greater density create increased demand for compact, efficient solutions to liquid cool electronics
Duncan, S.C. (Nov. 1, 2019) – Stäubli's non-spill, quick-release couplings have become an essential element in the liquid cooling of electronics. The company will showcase how its compact solutions are improving efficiency across the industry at the SC19 supercomputing conference in Denver, Nov.18-21.
Stäubli (booth #1936) – a leader in providing thermal cooling solutions for high-performance computing and data center storage – will showcase a variety of different scenarios to demonstrate how the absolute tightness of its connectors creates a sealed environment to ensure the safety and reliability of electronics and IT systems.
"With the increased demand for higher-performing electronic devices, liquid cooling is becoming even more important to dissipate heat from electronic devices because of the numerous benefits it offers over other cooling methods," said Phil Briggs, Fluid Connectors Division Manager, Stäubli North America. "The compact design of Stäubli fluid connectors maximizes efficiency in increasingly tighter environments."
The company will display locking or hand mate connectors that can be placed outside of the electronic array or added to existing equipment to convert an air-cooled system into a liquid cooled system. Fluid connectors enable the liquid line to be disconnected for a variety of reasons, including changing the electronic equipment for upgrade or maintenance, swapping the active components from the static structure, or building and connecting sub-assemblies.
Stäubli CGO quick couplings are dedicated to the cooling of electronics and thermoregulation and feature a non-spill, flush-face technology that guarantees a perfect seal during use and connection/disconnection phase. Equipped with valves that prevent fluid from leaking when disconnecting and air from getting into the line when mating, these connectors feature oscillation technology that allows "blind" coupling and compensates for misalignments up to 0.5 mm between axes.
The company has been a leader liquid cooling for more than 25 years, combining performance, safety and durability with a variety of seal types, coupling materials and design options, which makes them compatible with a wide range of coolants and temperatures.
SC19 is the world's largest marketplace for high-performance computing and networking professionals, bringing together scientists, engineers, software developers, policy makers, corporate managers, CIOs, and IT administrators from universities, industry and government agencies worldwide.
About Stäubli North America
Stäubli's North American headquarters is located in Duncan, South Carolina offering support to Connectors, Robotics and Textile customers, while Stäubli Electrical Connectors (formerly Multi-Contact) operates its business in Windsor, California. The dynamic Stäubli sales force is strategically placed in Michigan, South Carolina, the West Coast, Canada, Mexico, and elsewhere throughout the continent.
Stäubli is a leading manufacturer of textile machinery, quick release couplings and robotics systems. With a workforce of over 5,500 employees Stäubli is present in 29 countries supported by a comprehensive distribution network in 50 countries worldwide.
Contact:
Stäubli Corporation (North America)
Jan Abel
Senior Marketing-Communications Manager
Phone: (864) 486-5430
j.abel@staubli.com