Stainless-Steel MagSpring®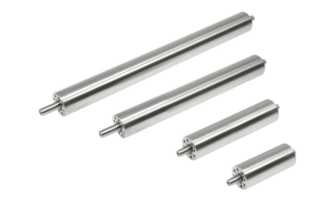 Following the successful expansion of their stainless-steel linear motors and guides, LinMot has introduced the stainless-steel version of the MagSpring, which is now also available on the market. With this new version now available, customers can benefit from the advantages of magnetic springs even under difficult conditions. This MagSpring product variant is optimally designed for handling aggressive liquids and foam cleaners used by the pharmaceutical and food industries.
The MagSpring M01-40-SSC consists of a magnetic slider and a stator. The stator shell is made of stainless steel (WkNr. 1.4404, AISI 316 L). The moving slider is precisely guided by the plain bearing installed inside the stator. The bearing material used in these stators is specially designed for use in the food and medical industries and is FDA approved. For easy mounting and alignment of the MagSpring, the stator front is provided with M5 threaded holes and a centered fit.
As with the established standard MagSprings, the function is based on the attractive force of permanent magnets. A constant force is generated over almost the entire stroke range, so that the force due to gravity acting on the load can be passively compensated when paired with a linear motor in a vertical orientation. Additionally, other applications are possible, such as the position-independent generation of a constant contact force, the application of a constant holding force over a large stroke range, or one-sided force support in drive tasks
Contacts:
LinMot USA
LinMot USA, Inc.
N1922 State Road 120, Unit 1
Wl, 53147, Lake Geneva
USA
Tel: +1-262-743-2555
Web: www.linmot.com
Email: usasales@linmot.com
LinMot Europe
NTI AG - LinMot & MagSpring
Bodenaeckerstrasse 2
CH-8957
Spreitenbach
Schweiz
Tel.: +41(0)56 419 9191
Fax: +41 (0)56 419 91 92
Email: office@linmot.com