Stäubli Electrical Connectors Features Customizable Solutions at Space Tech Expo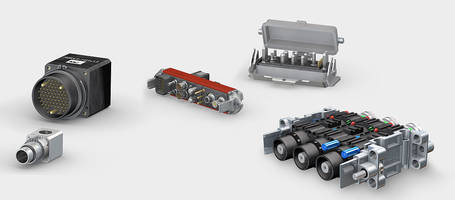 Innovative MULTILAM technology improves energy connection and transfer; CombiTac modular connector system offers customized solutions for a variety of connection types 
WINDSOR, Calif. (May 21, 2018) – Stäubli Electrical Connectors is showcasing customizable, quick connection solutions that are ideal for extreme operating conditions for aerospace applications at Space Tech Expo 2018 (booth #3001) in Pasadena, California, May 22 – 24.
Formerly Multi-Contact USA, Stäubli Electrical Connectors has been working in partnership with the aerospace industry on major international projects for more than 40 years. The company has experience manufacturing high-quality connectors for a wide range of industries including electrical contacts for power distribution, relay sockets, interconnection solutions, blind mate/rack and panel connectors for PCBs and busbars. Applications of their innovative solutions include power generation and distribution, lighting systems, batteries, galleys and air conditioning.
"Stäubli develops quick connection solutions that are ideal for extreme operating conditions for aerospace applications," said Christian España, Sales and Marketing Manager at Stäubli Electrical Connectors. "Our customized solutions and commitment to quality have established us as a trusted brand that meets the rigorous needs of the industry."
At Space Tech Expo, Stäubli will showcase its CombiTac modular connector system, one of the company's best-known products. CombiTac offers a wide range of combinations of contact types. For launch systems, for example, CombiTac can house connections for axillary power, data recording / transmitting, thermo-sensing elements and fluids (fuel, coolant, compressed air) all in one customized unit.
Launch system CombiTac applications include power distribution, conversion or storage; liquid level sensors; rate gyros; RF transmitters; and camera equipment. Solutions are built to each customer's specifications by assembling individual dedicated modules based on each unique combination request.
The company also will showcase its slide-inline GSR fork connectors – suitable for applications in non-corrosive indoor environments or protected outdoor installations – for power connection to busbars as well as high-power insulated connectors, up to 1000V/1000A, for mobile power connections.
Space Tech Expo 2018 is the West Coast's premier space event, showcasing a wide range of technologies for the commercial, civil and military space supply chain.
Stäubli products benefit from its MULTILAM technology, which features specially formed and resilient contact elements. Constant spring pressure from MULTILAM louvers ensures continuous contact with the contact surface, resulting in a constantly low contact resistance. This technology allows Stäubli to create solutions for connectors within the most severe constraints for up to 1 million mating cycles.
To schedule an interview with Stäubli experts while visiting Space Tech Expo 2018, please contact Carlos Groth using the contact information below:
Carlos Groth
Senior Designer – Marketing
Phone: (707) 838-0530 ext. 128
Visit www.staubli.com/electrical for more information on the company and products.
About Stäubli Electrical Connectors – North America
Stäubli Electrical Connectors – North America's headquarters is located in Windsor, California. Its product range includes interconnection systems for the most demanding applications in aerospace, medical, robotics, solar energy, general industry and test & measurement including plugs and sockets designed for high performance, high mating cycles, low insertion and extraction forces, and that are ideally suited for low- and high-current applications. Stäubli serves customers worldwide who aim to increase their industrial productivity without compromising quality, reliability or safety.
Stäubli is a global mechatronics solution provider with three core activities: Connectors, Robotics and Textile. We are an international group that currently operates in 29 countries, with agents in 50 countries on four continents. Our global workforce of 4,500 shares a commitment to partnering with customers in nearly every industry to provide comprehensive solutions with long-term support.