Square D® Square-Duct Galvanized Steel Wireway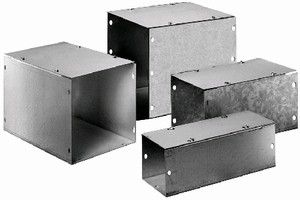 COMBINES CORROSION RESISTANCE WITH INCREASED ASSEMBLY EASE

PALATINE, Ill. - December 20, 2005 - Square D® SQUARE-Duct® NEMA Type 1 galvanized steel wireway combines corrosion resistance with greater assembly ease. Because wireway sections and fittings are completely open on one side, no pulling through of wires and cables is required; they can be simply laid into the wireway without fear of damage to cable insulation.

SQUARE-Duct galvanized wireway sections come in six different square sizes, three of which are available with ½- and ¾-inch concentric knockouts. Varying straight section lengths, along with special pieces like tees, elbows, connectors and telescope fittings, add convenience.

"While SQUARE-Duct zinc-coated galvanized wireway is a good fit for any geographic area, because of its ability to mechanically protect electrical wiring, it is especially effective for construction that is occurring in corrosive atmospheres, such as coastal regions," said Ray Rechenberg, Square D Staff Marketing Specialist.

SQUARE-Duct galvanized wireway is available in 2.5 x 2.5, 4 x 4, 6 x 6, 8 x 8, 10 x 10 and 12 x 12-inch square sizes in straight section lengths ranging from 1 to 10 feet. Greater convenience during construction is provided via 90- and 45-degree elbows, 90-degree sweep elbows, and 90-degree flush tees and cross-junctions. Telescope fittings are easily adjustable to various lengths.

For more information about Square D SQUARE-Duct galvanized wireway, call 1-800-392-8781 or visit us.squared.com.

Headquartered in Palatine, Ill., the North American Operating Division of Schneider Electric had sales of $2.6 billion (U.S.) in 2004. The North American Operating Division is one of four operating divisions of Schneider Electric, headquartered in Paris, France, and markets the Square D, Telemecanique and Merlin Gerin brand products to customers in the United States, Canada and Mexico. In the United States, Schneider Electric is best known by its flagship Square D brand, with Telemecanique becoming increasingly known in the industrial control and automation markets and supported by many Square D distributors. For 100 years, Square D has been a market-leading brand of electrical distribution and industrial control products, systems and services. Schneider Electric is a global electrical industry leader with 2004 sales of approximately $12.8 billion (U.S.). Visit Schneider Electric on the Internet at:

o Corporate - www.us.schneider-electric.com
o Telemecanique Products - www.us.telemecanique.com
o Square D Products - us.squared.com
o Merlin Gerin Products - us.merlingerin.com

This release is submitted for consideration in both print and Web publications.


More from Agricultural & Farming Products