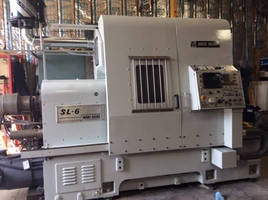 POINTS OF INTEREST: NEW Address: 1529 Cottage Street, Ashland OH 44805




MARCH : MORI SEIKI PASSES ITS FINISHING TESTS



CINCINNATI GRINDERS ARRIVE FOR THEIR REBUILD (P. 2)



ACU-RITE SPRING SALE EVENT; COMPLETE WITH FREE SHIPPING! (P.2.)



MORI SEIKI MARCH MADNESS



The Mori will go home, looking new and performing great. Looking at the before after pictures gives you a peek into the process. The Mori came to us with many issues. Its owner purchased it from a wet warehouse of machines & the Mori was exposed to the elements, not under power for months, & in bad shape. After a short evaluation period we were happy to report to the owner that the Mori was repairable & we began the rebuild process for it. Part of our evaluation was to answer this question: Was it cost efficient to rebuild it or should the owner purchase a new machine? 



The long process of rebuilding the Mori Seiki began last March. Today it is completed. And although this project was a challenge because of its storage circumstances , that did not stop our work.



We accomplished the project . Waking the control was easy; keeping it awake was the challenge. Mike Rossi began troubleshooting each facet of the control until he determined just what needed to be done. Once the control could stay awake, we began to test the moving parts, some of which we repaired or replaced on the machine.



With a new face lift, a working control, & the machine able to make parts again, this project is  another Rossi Machinery Services success story.



Saving you money, keeping your equipment running, rebuilding your existing equipment are all ways that we keep you competitive.



The Mori Seiki is a testament to Mike Rossi's talent. Keeping in touch with the owner of this machine with regular reports and online pictures allowed the owner the participation & knowledge to determine if he wanted us to continue on this machine. This is a little "extra service" we offer.



Ultimately it was a great decision ~ for less than a new machine this owner has a work horse machine for his production line. And we are proud to be a part of his goals. What can we rebuild for you?



More News, New Projects & Pictures: THE CINCINNATI REBUILDS



Two Cincinnati Grinders are pulled from production for our rebuild process.



Did you know we can quote you a "Price NOT to exceed"? We are flexible that way. That's what this customer wanted. We like to put our customers first. The process takes a skilled technician who is dedicated to the perfection & detail that rebuilding requires. Starting with this rough machine, we work efficiently to transform these machines into a production- ready machines. 



Accu-Rite Sales Event



For a limited time save 10% off of any of these Acu-Rite Systems:

The Vue, 200S or 300S Digital Readout Systems.





Each system has the same quality that Acu-Rite is known for.



Displays are made in the USA.



Upgrade your mill, grinder, or lathe to a digital readout system & upgrade your ability to compete.



Take the guessing out of your machining with an Acu-Rite System.



For a limited time we are offering free shipping up to $20.00 value.



NOW that is a Spring Cleaning Event! 



Rossi Machinery Services, Inc.

866-622-4488

www.rmscnc.com



Celebrating: 21 years of service to you. 1995-2015 

More from Agricultural & Farming Products