Cleaning Compounds and Chemicals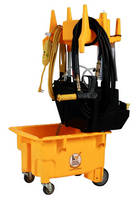 One of the unique components of Kaivac's OmniFlex™ Crossover Cleaning system is the Spray-and-Squeegee, which employs the OmniFlex optional "Black Box" pump. Use this system to flush clean surfaces and fixtures similar to an indoor pressure washer. Then squeegee the soil and water to the drain, leaving surfaces clean and dry without ever having to touch them. The OmniFlex Spray-and-Squeegee process yields better, cleaner, healthier results in less time than traditional mopping.



For more information, visit Kaivac at www.kaivac.com or call toll-free: 800-287-1136.





More from Test & Measurement