Spheryx's xSight Wins 2018 R&D 100 Award, Known as the Oscar of Innovation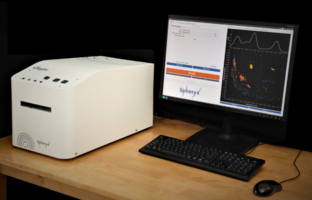 Spheryx's xSight, their new analytical instrument for particle characterization wins the R&D 100 Award that celebrates the top 100 revolutionary technologies in 2018.
NEW YORK, Nov. 20, 2018 /PRNewswire/ -- Spheryx, Inc. announced today that their xSight won the 2018 R&D 100 Award. For the past 55 years, the annual R&D 100 Award has identified the 100 most innovative products, honoring R&D pioneers and their revolutionary ideas in science and technology. Spheryx's xSight was selected for its ground-breaking capabilities in particle characterization. Applications include R&D, quality assurance and manufacturing process control across a broad spectrum of industries, where characterization of colloids can enhance innovation, improve safety and reduce costs.
Panels of expert judges including consultants, university faculty members, and industrial researchers selected the finalists and determined the winners. Other 2018 winners include: The Dow Chemical Company, MilliporeSigma, MIT Lincoln Laboratory, NASA, Varian Medical Systems, Thermo Fisher Scientific, Toyota, and Los Alamos National Laboratory (see complete list of the winners) winners were announced at a black-tie gala on Nov. 16 at the Waldorf Astoria in Orlando, FL. Spheryx CEO Dr. Laura Philips, who accepted the award at the ceremony, stated "We are honored that Spheryx's xSight is included in such an august group of products from companies and institutions that are such household names. The R&D 100 Award is a testament to the revolutionary capabilities of xSight and its ability to meet critical needs across multiple industries." 
About Spheryx, Inc.
Spheryx, Inc. is a privately held analytical services and instruments company providing Total Holographic Characterization® of colloidal materials. Spheryx's proprietary technology uses holographic video microscopy to characterize each particle in colloidal dispersions and multi-component colloidal mixtures, offering unprecedented insights into these materials' characteristics. Applications include R&D, quality assurance and manufacturing process control across a broad spectrum of industries, where characterization of colloids can enhance innovation, improve safety and reduce costs. For more information: https://www.spheryx.solutions/
Contact:
Laura Philips, CEO
lphilips@spheryx.solutions 
607-738-0100
More from Packaging Products & Equipment