SPANCO Rigid Lifelines Motorized Fold-Away Fall Protection System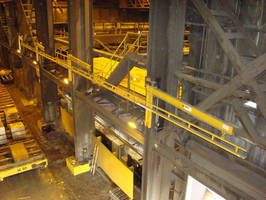 Our innovative rigid track fold-away fall protection systems are now even easier to use with a new optional motorized feature. With a rotation speed of 1/2 RPM and easy control with a push button pendant, the system's jib arms are moved with 1/3 HP motors that are standard with soft start, rotation limit switch, and torque limiter. The motors mount on top of the jib arms, and the number of motors needed on a system are dependent on the number of support centers needed for that system.

With the simple push of a button, the system opens smoothly to 45 degrees, and just as effortlessly, folds closed, flush against the building columns.

Our fold-away system works perfectly for facilities that need a versatile fall protection solution. Often used in facilities where workers need protected under large overhead cranes, the fold-away fall protection system easily accommodates to the job requirements. When folded away, workers can utilize the overhead crane again. Start protecting your valued workers by calling us today at (800) 869-2080.

Learn more about rigid track fall protection you can trust at rigidlifelines.com!

To learn more about products from the Rigid Lifelines Fall Protection Division of Spanco, Inc., please visit www.rigidlifelines.com. If you would like to receive any of our promotional literature, please contact, Michael Evanko, Marketing Manager, Spanco, Inc., at (610) 286-7200 or mevanko@spanco.com.


More from Machinery & Machining Tools