Sonobond Ultrasonics Acts to Assist Body Armor Manufacturers in Meeting Tough, New Standards for Totally Water-Proof Ballistic Vests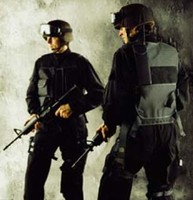 Limited-Time Discounts are Now Available on the SeamMaster(TM) High Profile Ultrasonic Bonder and the SureWeld(TM) 20 Line of Ultrasonic Plastic Welders.

WEST CHESTER, Pennsylvania, January 17, 2008-To help manufacturers quickly and cost-effectively meet the latest government standards, Sonobond Ultrasonics announced today that it is temporarily discounting the price of two types of ultrasonic bonders used to assemble ballistic vests. The new National Institute of Justice (NIJ) Standard 0101.06, Ballistic Resistance of Personal Body Armor, mandates that ballistic vests must now be totally water proof. These new standards significantly reduce the risk that bullet-proof materials -such as Spectra-Shield® and Kevlar® contained in the body armor-will lose their lifesaving effectiveness by exposure to moisture.

Creating Moisture-Proof Seams
Sonobond offers two types of ultrasonic bonders for assembling ballistic vests with moisture-proof seams. One is the SeamMaster(TM) High Profile Ultrasonic Bonder. It seals the outer shell to protect the ballistic-resistant material inside. The other is the SureWeld(TM) 20 line of ultrasonic plastic welders. These are used to attach Velcro® to the outer shell of the vest. According to Sonobond's president, Janet Devine, the company will make both the SeamMaster(TM) High Profile Ultrasonic Bonder and the SureWeld(TM) 20 line of ultrasonic plastic welders available to ballistic vest manufacturers at a 5% discount through the first quarter of 2008. She explains, "It is critical for military and law enforcement personnel to have the most reliable and effective body armor possible. So Sonobond is offering this limited-time 5% discount to manufacturers of ballistic vests. We want to encourage them to act quickly to acquire the technology that will help them satisfy the rigorous standards announced by the NIJ."

The Advantages of Ultrasonic Assembly
Sonobond bonders use ultrasonic energy to cut and seal synthetic materials in just one pass. This is accomplished without using consumables such as glue or thread. There is no need for stitching, heat-sealing, adhesive, or stationary sonic methods. As a result, stitch holes and glue gaps are eliminated. Devine explains, "Most armored vests are designed with an outer layer of coated synthetic material that protects the core inside. Our Sonobond SeamMaster(TM) High Profile continuous bonding equipment passes the synthetic material between the unit's horn (which delivers the energy) and a rotating pattern wheel. The resulting build up of heat at the contact point causes the material to melt and fuse. This creates a strong molecular bond that is impervious to moisture." According to Devine, "The SeamMaster(TM) High Profile Ultrasonic Bonder is similar in appearance and operation to a traditional sewing machine. However, it is up to four times faster, can be easily integrated into production lines, and requires only minimal training to operate."

Sonobond SureWeld(TM) 20 ultrasonic plastic welders also play a vital role in the production of water-proof ballistic vests. These units are ideal for attaching Velcro® to the outer shell of the vest. Manufacturers can choose either the fullfeatured SureWeld(TM) 20 Ultrasonic Plastic Welder or the more basic SureWeld(TM) 20 Integrated Plastic Welder that easily accommodates thick and/or difficult-to-handle materials. They can also be custom-designed to customer specifications.

Nearly every major ballistic vest manufacturer in the U.S. now uses Sonobond equipment, including Point Blank and American Body Armor in Florida, Armor Express and Second Chance in Michigan, and MSA Paraclete in North Carolina, to name just a few.

A Leader in Ultrasonic Welding Technology
Sonobond is a worldwide leader in the application of ultrasonic welding and bonding technology. In 1960, Sonobond, then known as Aeroprojects, received the first patent ever awarded for ultrasonic metal welding. During the intervening 48 years, Sonobond has earned an outstanding reputation for its pioneering work and quality-engineered products. Today, Sonobond manufactures a complete line of ultrasonic welding and bonding equipment for a wide variety of customers in the automotive, appliance, electrical, HVAC, aerospace, filtration, medical, and apparel industries.

Additional Information
For more information about Sonobond ultrasonic bonding technology and specific Sonobond equipment, visit the website at SonobondUltrasonic.com or call 800-323-1269.

Spectra-Shield®, Kevlar®, and Velcro® are Registered Trademarks of their respective companies.

More from Computer Hardware & Peripherals