Smucker Laser Adds Its Third Laser to Increase Laser Cutting Capacity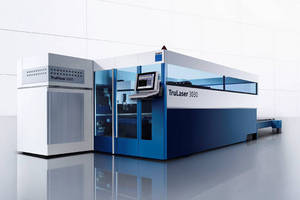 Smucker Laser adds its third laser to increase laser Cutting Capacity

Smucker Laser Cutting & Metal Fabrication, in Lancaster, PA has added the Trulaser 3030 to its facility to upgrade existing capabilities.

The new laser will allow us to cut aluminum and stainless steel to greater thicknesses. We can now cut Aluminum sheet up to ½" & Stainless Steel up to ¾". We can also cut Steel up to 1" Thick.

The new generation of the TruLaser 3030 combines innovative technology and high laser power with a new design concept and optimized operation. Advantages include:

o One cutting head for all sheet thicknesses- the single cutting head strategy and automatic nozzle change results in minimal unproductive time.

o High laser power- Increased speed and dynamics through linear drive technology.

o Innovative procedures for rapid, reliable processing.

Laser Cutting is a process of using light to fabricate- A fine, invisible bundle of energy, the laser cuts detailed surgical implants as perfectly as it does sheets of steel more than an inch thick.

Laser Cutting has many advantages over other fabrication processes such as higher precision, faster production times, more flexibility in design, reduced burr and no additional heat produced, reducing operating costs. For more information on the Laser Cutting Process, please visit http://www.us.trumpf.com/products/machine-tools/solutions/knowledge-for-perfect-production/laser-cutting.html.

About Us:

Smucker Laser was established in 2002 to meet an increasing need for a Fabricator in the area to provide quick turnaround laser cutting on both large and small volume orders. Since then we have added two additional Lasers to keep up with demand. We attribute our success to customer service, fast and accurate delivery of parts and competitive pricing. We rely heavily on our long term employees who continue to learn better and more efficient processes to improve service our customers. We are also continually updating our equipment and software to further our capabilities. For more information, please visit our website www.smuckerlaser.com or call 717-687-6483.


More from Test & Measurement