Skyline Steel's Combined-Wall Pile System Meets the Demands of Port of Houston Terminal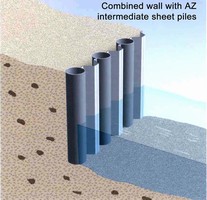 Marine Foundation with Spiralweld Pipe a First for Port of Houston

HOUSTON, TEXAS - April 11, 2008 - Project engineers for a new cruise ship terminal at the Port of Houston chose Skyline Steel's combined-wall pile system as the primary structural element for the dock wharf. The combined-wall pile system alternates steel spiralweld pipe piles with AZ steel sheet piles to create a continuous bulkhead. A total of 3,700 tons of 66-inch diameter spiralweld pipe with 3/4-inch walls was used for the 91-foot king piles. An additional 1,400 tons of AZ sheet pile serve as intermediate panels between the pipes.

The spiralweld pipe is manufactured by Skyline Steel and was supplied by the company's Iuka, Mississippi, facility. According to Rob Lewis, vice president of Orion Construction of Texas, "Pipe pile is getting harder and harder to acquire on a timely basis for such large jobs as this. Skyline Steel not only achieved the aggressive delivery schedule, but they made it easy."

Continued Lewis, "The engineering assistance available from Skyline before and during the project was a key asset." Skyline Steel was able to meet tighter pipe tolerances and quality control and inspection requirements established by the project's design engineers. Skyline worked with Orion Construction to develop an enhanced production and testing process on the spiralweld pipe to meet the more demanding requirements.

The combined-wall pile system met all the requirements of the Bayport Terminal project: structural strength, suitability for poor soil conditions, minimal air and noise pollution, and protection of nearby marshlands and wetlands. Sam Shilu, project manager for the Port of Houston Authority, commented, "We were very impressed with the spiralweld pipe quality, price, and availability. We would definitely use this spiralweld pipe again."

Skyline Steel is a wholly owned subsidiary of Arcelor Mittal, the largest global steel producer. Headquartered in Parsippany, N.J., Skyline Steel has 22 strategically located sales offices, six state-of-the-art manufacturing and fabrication facilities, and 22 stocking locations. Skyline Steel provides customers with immediate delivery of the widest range of foundation products available, including sheet pile systems, H-piles, pipe piles, micro piles, structural shapes, piling accessories, anchorage materials, and fabrication services. For more information, visit skylinesteel.com.

Contact:
Dean Abbondanza, 412-437-1103, marketing@skylinesteel.com.

More from Chemicals & Gases