Sinclair Broadcast Group appoints Rohde & Schwarz as their Premier Supplier of Repack Transmitters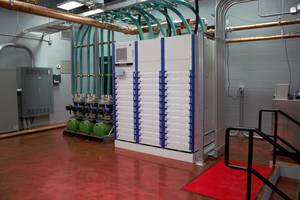 Columbia, MD, March 28, 2019 - As part of the ongoing Federal Communications Commission (FCC) Repack, Sinclair Broadcast Group, one of the largest owners of television stations in the United States, has chosen to deploy over 100 Rohde & Schwarz high-power TV transmitters for the broadcast operation of 90 TV stations nationwide.
Well ahead of the curve, Sinclair Broadcast Group once again demonstrates thought-leadership and long-term vision by assigning Rohde & Schwarz as their partner for providing guidance and a comprehensive turnkey solution to ensure that all requirements and deadlines of its FCC Repack transition are met.
Sinclair's transmitter model of choice is the future-ready R&S®THUevo liquid-cooled transmitter. It offers an easy path to ATSC 3.0 and energy efficiency values of up to 43 percent for ATSC. Compared to conventional transmitters, the R&S®THU9evo can save up to 50 percent of energy costs (in Doherty operation), while offering the highest power density on the market. The result is a reduction in energy consumption, which minimizes network operator costs.
"We partnered with Rohde & Schwarz for the installation of the R&S®THUevo to commence our repack efforts about a year ago. This is a very nice product, and Rohde & Schwarz has proven to be an incredible partner for Sinclair by providing a great service and support from comprehensive consulting and site surveys all the way to installation, commissioning, proofing and after-sales services." commented Harvey Arnold, Vice President of Engineering at Sinclair Broadcast Group. "Rohde & Schwarz strives to deliver a great product and they listen to our needs."
"We value our business partnership with Sinclair Broadcast Group and appreciate their continuous trust in our products and team during the ongoing repack," said Erik Balladares, Vice President of Broadcast & Media at Rohde & Schwarz USA, Inc. "It was imperative for Sinclair Broadcast Group to take the opportunity to future-proof their broadcast operation in every possible way, and to plan and execute the FCC Repack measures in an exemplarily manner. We would like to salute them for doing an outstanding job in fulfilling the repack requirements well ahead of the schedule." concluded Balladares.
All press releases and respective images are available at www.press.rohde-schwarz.com
Press contact:
Maryam Larki Bavi
Marketing Manager Broadcast & Media
Rohde & Schwarz USA, Inc.
E-mail: Maryam.Larki-Bavi@rsa.rohde-schwarz.com
Phone: +1 818-846-3600 x1411
Rohde & Schwarz
Built on an 80 year heritage, Rohde & Schwarz is a recognized leader in the field of Test & Measurement, Secure Communications, Radio Monitoring & Radio Location, and Wireless Communication with an unparalleled expertise in broadcasting. The Rohde & Schwarz Broadcast and Media Division provides top-notch solutions to premier broadcasters, studios, post-production facilities, cable TV and satellite providers, and consumer electronics designers. Headquartered in Munich, Germany, Rohde & Schwarz is an independent company with a sales & service network that ranges across more than 70 countries. Rohde & Schwarz has over 10,500 employees worldwide and achieved a net revenue of Euro 1.92 billion in FY 2016/2017. R&S® is a registered trademark of Rohde & Schwarz GmbH & Co. KG.
More from Electrical Equipment & Systems