Simtronics' MultiFlame 3IR Detectors Certified SIL3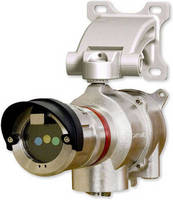 Aubagne, France – Simtronics, an IST company, is pleased to announce that its MultiFlame series DF-TV7-T and DM-TV6-T are the first triple IR flame detectors on the market to be certified up to safety integrity level SIL3. The devices recently underwent stringent functional safety assessments by third party agency LCIE Bureau Verita and were found to be in compliance with IEC 61508:1-7.



MultiFlame DF-TV7-T and DM-TV6-T series flame detectors provide fast and accurate detection of hydrocarbon fires while ensuring reliable false alarm immunity. Based on a multi-infrared spectrum (3IR) technology, the detectors provide one of the longest distance-to-detection ranges on the market (260 ft for n-Heptane). In addition, the 3IR detectors are highly sensitive to fire, and ideal for use in dirty environments and for smoky fires.



Also available in the MultiFlame product line is the DF-TV7-V, a UV/2IR version certified for use in SIL2 applications. The MultiFlame DF-TV7-V uses combined ultraviolet/infrared optical technology that provides industry-leading immunity to false alarms based on the two IR channel design. Both solutions lead to a very efficient false alarm rejection while keeping optimum sensitivity to fire.



All MultiFlame detectors are equipped with a continuous optical lens auto-check to ensure that the optical path is clear and that the detector functions properly. Sensors can be replaced easily in the field without removing any cable glands.



Industrial Safety Technologies (IST) is dedicated to providing innovative industrial safety solutions. Together, Simtronics, Detcon, Gas Measurement Instruments (GMI), and Oldham manufacture the most comprehensive portable, wireless, and fixed flame and gas detection safety solutions.



For more information contact any of the IST companies: Simtronics at www.simtronics.eu, Detcon at www.detcon.com, GMI at www.gmiuk.com, and Oldham at oldhamgas.com.