Silent Knight's IFP Series: a Full Range of Fire Alarm Solutions to Meet all Budgets and Security Needs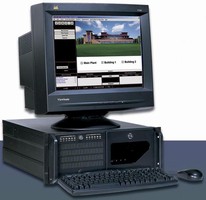 MAPLE GROVE, Minn. - Silent Knight offers industry-wide compatible fire alarm solutions for small to mid-size institutions and commercial sites. Silent Knight now offers a full range of fire alarm solutions through its analog/addressable IFP Series of Products. The series includes the IFP-50, IFP-100, IFP-1000, and the IFP-100/1000 VIP (Voice Integration Panel). The series also includes the IFP-Net Fire System Manager, a PC-based system that monitors Silent Knight's fire control panels. The IFP-Net features an easy-to-use interface that gives users the ability to graphically capture and display fire events and conditions throughout a facility.

The IFP series ensures that the end user's requirements can be met with the most appropriate and most economical fire alarm solution, regardless of application or facility size. For instance, smaller sites that require less addressable devices can use the IFP-50 while medium and large applications can use the IFP-100/IFP-1000.

In addition, integrated voice panels are all-in-one products offering all of the features of Silent Knight's well-known fire control panels, plus the added convenience and utility of a voice evacuation system.

Silent Knight distributes the IFP Series of fire alarm panels and a wide range of accessories through its Farenhyt program of authorized Engineered Systems Distributors (ESD). For more information on these products or to find your local Farenhyt distributor, visit www.farenhyt.com.

Silent Knight is part of the Honeywell (NYSE:HON) life safety group, an industry leader in providing commercial fire alarms, advanced detection and notification products, and home patient remote tracking.

Honeywell International is a $25 billion diversified technology and manufacturing leader, serving customers worldwide with aerospace products and services; control technologies for buildings, homes and industry; automotive products; turbochargers; and specialty materials. Based in Morris Township, N.J., Honeywell's shares are traded on the New York, London, Chicago and Pacific Stock Exchanges. It is one of the 30 stocks that make up the Dow Jones Industrial Average and is also a component of the Standard & Poor's 500 Index. For additional information, please visit www.honeywell.com. Silent Knight, part of the Honeywell Fire Group, offers industry-wide compatible fire alarm solutions sold through both security equipment distributors and engineered systems distributors. For more information, visit www.silentknight.com.