Seven Leading Brands from Hubbell Lighting Showcase Energy Savings Solutions for Dealerships at 2013 NADA Convention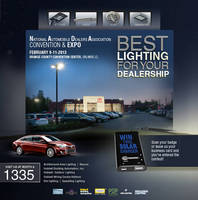 GREENVILLE, S.C. - A number of leading brands from Hubbell Lighting Inc. portfolio will be demonstrating their energy saving solutions for efficiently lighting auto dealerships at the 2013 National Automobile Dealers Association Convention & Expo on February 9 - 11 in Orlando, FL. Brands including Architectural Area Lighting, Beacon, Hubbell Building Automation, Hubbell Outdoor Lighting, Hubbell Wiring Device-Kellems, Kim Lighting and Spaulding Lighting will display a variety of innovative lighting solutions and controls that can provide the best and most efficient lighting for dealerships.

Some of the featured products include:

· ALTITUDE(TM) by Kim Lighting features a low profile, architecturally relevant luminaire that is scalable in six sizes for pedestrian, site and roadway applications. This distinctive luminaire was specifically designed from the ground up to exploit the benefits of LED technology and features the innovative engineering, thermal management, and performance of Kim's patent pending PicoPrism(TM) optics.

· PEP Stations from Hubbell Wiring Device-Kellems are the premium solution to electric vehicle charging. Their distinctive styling provides the property owner with a design that is complimentary to building architecture, adding value, curb appeal, and supports a green commitment to reducing emissions.

· Cimarron LED Area Site Light from Spaulding Lighting is a highly efficient luminaire that delivers up to 98 lumens per watt and allows for multiple LED configurations with over 26,000 lumens. The Cimarron LED Series was designed with the most advanced LED lighting technology to deliver energy efficiency, safety and security. It is available in configurations of Type II, III, IV and V distributions in 36 high brightness LED configurations for a perfect balance of design, form, function and efficiency.

· Sedona LED Surface Mount Luminaire from Hubbell Outdoor is a unique, high performance illumination solution for surface ceiling mount and parking garage applications. The Sedona LED luminaire features a hexagonal LED cluster design that provides optical flexibility and light level scalability in a compact luminaire with a choice of three lumen packages from 3700 to 8600 (18-36 LEDs).

· Laredo® LNC2 Architectural LED Wallpack from Hubbell Outdoor is a high performance wallpack for entry/perimeter applications. The Laredo® LNC2 Series is available in a variety of sizes and LED configurations to provide a high performance 25W and 45w solution that conserves up to 85% energy savings over traditional metal halide sources. The energy efficient LEDS deliver 60,000 hours of life at L96 lumen maintenance for a long lasting, architecturally styled and powerful LED perimeter security solution.

· Flex(TM), part of AAL's Designer SSL Series, features AAL's exclusive MicroEmitter technology which provides ample, smooth, even illumination of the environment. The precision aiming system of the MicroEmitter technology ensures that even when looking directly at the luminaire, only one-half of the LEDs can be viewed at any given time. This results in 50% less glare when compared to other exposed, unshielded LED systems. Flex is available with multiple arm designs and mounting options with upgrade kits available for existing HID installations.

· The Viper luminaire from Beacon is the cutting edge in LED style, performance and technology. Available in two sizes with a wide choice of different LED wattage configurations and optical distributions, the Viper is designed to replace HID lighting up to 1000W M or HPS in a wide variety of new and existing installations. Beacon, winner of the prestigious IES innovative technology award, delivers the industry's highest efficacy at up to 115 delivered lumens per watt.

· Hubbell Building Automation's wiHUBB(TM) Wireless Distributed Lighting Control System is a secure peer-to-peer, self-organizing and self-healing mesh network of fixture modules, occupancy/vacancy sensors, daylight harvesting sensors and switch stations designed specifically for lighting applications.

These products and more will be available for viewing in the Hubbell Lighting booth #1335 at the NADA Convention & Expo, February 9-11, 2013 at the Orange County Convention Center, Orlando, FL. For additional information on Hubbell Lighting and its full range of indoor and outdoor lighting products, visit www.hubbelllighting.com

About Hubbell Lighting:

Hubbell Lighting is one of the largest lighting fixture manufacturers in North America. The company provides a full range of indoor and outdoor lighting products serving the commercial, industrial, institutional, and residential markets. Hubbell Lighting brands include Alera Lighting, Architectural Area Lighting, Beacon Products, Columbia Lighting, Compass Products, Devine Lighting, Dual-Lite, HomeStyle Lighting, Hubbell Building Automation, Hubbell Industrial Lighting, Hubbell Outdoor Lighting, Kim Lighting, Kurt Versen, Prescolite, Progress Lighting, Security Lighting, Spaulding Lighting, Sportsliter Solutions, Sterner Lighting Systems, Thomasville Lighting, and Whiteway.


More from Packaging Products & Equipment