Select BioFit Seating and Accessories Now Comply with Healthier Hospitals Initiative Standards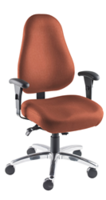 BOWLING GREEN, OHIO (PRWEB) NOVEMBER 12, 2019 - BioFit Engineered Products, a global leader in the design and manufacturer of technical ergonomic seating solutions, announced this week that they offer a comprehensive selection of seating and adjustable footrests compliant with Healthier Hospital Initiative guidelines. Established by Practice Greenhealth, a health care membership organization which provides sustainability solutions, Heathier Hospitals encourages manufacturers to provide information on furniture and fabrics that meet the Healthy Interiors Safer Chemicals Challenge objective of reducing or eliminating harmful chemicals within their products.
BioFit products that meet the Healthier Hospitals Initiative (HHI) criteria include a wide selection of upholstered and non-upholstered models from the company's MVMT and Foundation seating lines as well as two adjustable footrests. Pertinent models represent a cross section of BioFit's most popular seating series and were chosen to meet the unique requirements of specific healthcare and medical facility workspaces, including examination, laboratory, x-ray, office, registration, nurses' stations, ER, OR, task, multipurpose and heavy use applications. In addition to meeting HHI guidelines, all models are fully ergonomic and easy to clean, and nearly all are backed by a 13-year warranty.
Upholstered models are available in seven selections each from two Stinson HHI-compliant, non-PVC upholstery collections, or, in the customer's own material. However, customers are responsible for the treatment and chemical content of their own upholsteries to ensure HHI compliance.
"Customer and environmental welfare are top priorities at BioFit, which is why we offer products compliant with Healthier Hospitals [HL Healthier Hospitals guidelines," explained LouAnn Evans, BioFit Vice President of Sales and Marketing. She continued: "From day one, our products have been designed, tested and proven to support user wellbeing through comfort and ergonomics. Today, we're proud to take this next logical step in providing products that help promote an even higher degree of wellness to our healthcare customers."
Practice Greenhealth is a healthcare membership organization which provides sustainability solutions that benefit patients and employees, communities, financial security, and the environment. In 2012 with the support of 12 sponsoring health systems, Practice Greenhealth launched the Healthier Hospitals Initiative, a three-year initiative available free to any hospital that committed to take on one or more of six challenges to improve sustainability performance. More than 950 hospitals participated from 2012 to 2015. The success, lessons learned, and challenge structure of the Healthier Hospitals Initiative live on in Practice Greenhealth's programming.
Headquartered in Bowling Green, Ohio, BioFit Engineered Products is an industry-leading manufacturer of LEED® certified ergonomic seating, GREENGUARD certified tables, carts, and specialty products for healthcare, laboratory, office, industrial, education, high-tech and custom environments. To learn more about BioFit, visit http://www.biofit.com, call 800-597-0246 or email biofit@biofit.com.
Contact Information
Mike Moulton
Moulton & Associates
http://www.moultonassociates.com
+1 419-787-7242