Miscellaneous Fabrics and Cloths
SEFAR® TENARA Fabric Transforms Upscale Miami Hotspots: The Setai Hotel and Chotto Matte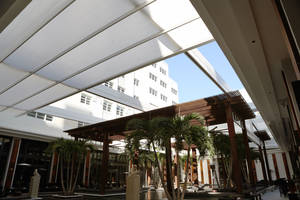 Retractable canopy protects patrons from the elements, provides elegant solution
DEPEW, NY…Miami's beautiful and unpredictable weather can pose a challenge for restaurant owners aiming to maximize exterior seating areas. Now, patrons can enjoy all-weather dining at the trendy Miami restaurant, Chotto Matte, and enjoy the beautiful exterior courtyard space at the historic Setai Hotel as both spaces are protected by a retractable canopy featuring SEFAR® Architecture TENARA® Fabric.
Chotto Matte, a Nikkei – Japanese-Peruvian fusion – restaurant is enhanced with a translucent retractable canopy made with TENARA Fabric. The retractable folding fabric roofing solution, also used for corporate events, weddings and other revenue-generating functions, spans a light well in the ceiling that extends up through the restaurant's second level. This feature serves as the centerpiece of the unique restaurant space below.
The Setai Hotel lies within the historic Art Deco District of the South end of Miami Beach. Designed by one of Miami's star architects of the Tropical Deco style, Henry Hohouser, The Setai was built in 1938 but underwent historic restoration and renovation in 2004, including the addition of a garden court in the rear. Setai management requested a retractable folding canopy to fit over much of the courtyard to maximize guests' enjoyment of the space, and SEFAR Architecture TENARA® 4T40HF Fabric was used as part of the system.
"TENARA Fabric provides a resilient, elegant folding fabric solution for two architecturally-impressive Miami icons," says Peter Katcha, Director of North American Sales for SEFAR Architecture. "The fabric is lightweight, translucent, and serves to enhance the customer experience of the space, no matter the weather."
With a 38% light transmission rate, TENARA Fabric allows for light to be diffused throughout the courtyard space while simultaneously providing shade. In terms of durability, TENARA Fabric is inert to UV rays and provides extremely high resistance to material degradation, far surpassing all other materials of its kind: it offers the industry's only 15-year material replacement warranty. TENARA Fabric is ASTM E84 – Class A fire-rated, making it an ideal canopy material for public spaces.
TENARA Fabric is unique because it is woven from ePTFE fabric and is also fluoropolymer-coated, making the PTFE inherent in the material. As a result, it allows more than three times the light transmission of similar structural fabric materials . Tenara fabric is also warranted to flex and fold without delaminating or losing strength.
Both Chotto Matte and the Setai Hotel Courtyard have been appreciated by patrons through several seasons, resulting in two more all-weather spaces benefitting both Miami residents and tourists alike.
About SEFAR Architecture: SEFAR Architecture is a leading manufacturer of monofilament precision and ePTFE yarn fabrics and fabric systems for interior and exterior architectural applications. With comprehensive knowledge in textile architecture, Sefar has cooperated with experienced lighting technicians and polymer experts to develop a new generation of fabrics for the architectural and design community. For more information on SEFAR Architecture's products and services, call Peter Katcha at 727-388-4919 or visit www.sefar.us.
Contact: Nick Murosky, LarsonO'Brien
Phone: 412-831-1959 x123 Email: nick@larsonobrien.com
More from Material Processing