Sealed Switches & Controls from Carling Technologies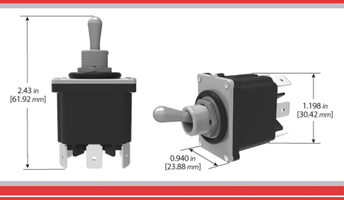 ST-Series Sealed Toggle Switch
Designed to comply with MIL-DTL-3950G requirements for environmentally sealed toggle switches, Carling Technologies ST-Series Sealed Toggle Switch features innovative design and performance principles that are sure to withstand the most demanding applications.
The ST-Series features a toggle seal composed of dynamic silicone material that bonds to the metal toggle, pin and bushing, providing ideal sealing and protection against the environment, vibration and shock, while withstanding extreme temperature variations. It also utilizes up to three terminal seals per pole and an optional o-ring assures additional under panel sealing protection. All silicone seals on the ST-Series comply with A-A-59588 for silicone rubber performance specifications and, together, these features meet the international IEC 60529 standard for sealing performance to an IP68 level.
More Sealed Switch Products
V-Series: Contura Switches
Carling Technologies' sealed V-Series Contura switches are well known for their cutting edge design, high quality, maximum performance and unmatched reliability. These switches are a staple in the marine and transportation industries and have passed a range of environmental, corrosion, temperature, vibration, shock and sealing tests including MIL Std 202F, MIL Std 510.1, UL 1500, ISO 8846, IEC 60529 and BS 5490 among others, making them one of the most rugged and reliable switches ever manufactured.
L-Series: Sealed Rocker Switch
The L-Series rocker switch is an innovative product offering total design flexibility, while at the same time setting new standards for performance and reliability. Its versatile design features include a neatly proportioned size that fits into an industry standard mounting hole of 1.734 x .867 (44.0mm x 22.0mm), countless unique choices for ratings, circuits, colors, illuminations and laser etched legends. These single or double pole switches also feature a broad choice of actuator styles, colors, and lenses with up to twelve terminals offering...
W-Series: Sealed Rocker Switch
Carling Technologies set the standard for performance and aesthetics with the widely successful, often imitated, but never duplicated, V-Series rocker switches. Building further upon that platform, Carling has once again raised the bar with the fully sealed W-Series. The W-Series' traditional appearance features complete IP68 protection, including below the panel, where the critical connection is made from the wiring harness. When used in conjunction with the integrated connector, the totally submersible W-Series provides a seal for up to ten individual wires, assuring compatibility with even the most complex circuitry.
V-Charger: 2-Port USB 2.0
Charger Carling Technologies USB V-Charger is designed to charge tablets, e-readers, mobile and gaming devices, digital cameras, as well as other compatible electronic devices. Providing a total current of 3.15 amps, the V-Charger delivers fast charging times even in extreme temperatures from -40°C to +80°C. This innovative product safeguards its electronics with integrated over-current and thermal overload protection, as well as optional load dump circuitry, assuring prolonged safe and reliable operation. The center LED indicates charging is in progress. Snap-in mounting for an industry standard 1.450" x .830" panel cutout makes installation easy.
Email: sales@relayspec.com
Application Support: Contact Customer Service
Phone: 800.526.5376
Fax: 201.337.1862
Relay Specialties,
17 Raritan Road,
Oakland, NJ 07436
More from Fasteners & Hardware