Schleuniger, Inc. to Debut New Wire Processing Equipment at Electrical Wire Processing Technology Expo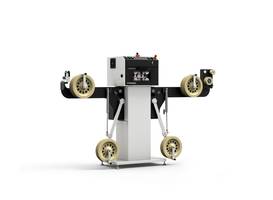 Schleuniger, Inc., a leading international manufacturer of high-precision wire processing machines, will be among the over 160 world-class suppliers and service companies to exhibit at the 2017 Electrical Wire Processing Technology Expo. This annual event for the wire and cable processing industry will be held May 10 – 11, 2017 at The Wisconsin Center in Milwaukee, WI. Schleuniger will be at booth #1732 providing hands-on demonstrations of innovative solutions for stripping, cutting, sealing, crimping, and marking of all types of wire and cable.
New for 2017, Schleuniger will demonstrate its latest pre- and post-processing machines, the PreFeeder 3200 and CableCoiler 1450. The PreFeeder 3200 is a puller type prefeeding machine for wires and cables with an outer diameter of up to 35 mm (1.37"). Made for use with Schleuniger cut and strip machines, this economical prefeeder provides constant tension to the downstream wire processing machine. The new CableCoiler 1450 offers fully synchronized, precise wire and cable coiling and is compatible with all Schleuniger cut and strip machines. A new quality device for cut and strip machines will also be introduced.
Schleuniger will also demonstrate the 2015 productronica innovation award winning, CoaxCenter 6000. The CoaxCenter 6000 is the first and only fully automatic machine for processing micro-coaxial and coaxial cables as well as single conductor wires. At the show, Schleuniger will demonstrate how the CoaxCenter 6000 can measure, cut, strip, and inspect conformable coax cable with incredible precision!
In addition, for the first time, Schleuniger will demonstrate the Laser Wire Solutions Mercury-4 laser wire stripping machine running as part of a full in-line wire processing system. This in-line system is the perfect solution for stripping shielded twisted pair cables. The Mercury-4 provides guaranteed nick-free stripping with radial and axial incision capability. The in-line system, which can be controlled via Cayman software, processes wires and cables up to 6 mm (.236") O.D. and can perform virtually unlimited length end strips or window strips.
Also new in laser technology, Schleuniger will be demonstrating an in-line system featuring a laser wire marker from Tri-Star Technologies. The Tri-Star Laser Marker, which is fully integrated with Schleuniger Cayman software, can be run in-line with a Schleuniger cut and strip machine and can apply marks anywhere along a wire or cable. The machine prints in any font, size, and orientation and can mark any UV Laser markable wires, including Kapton, Tefzel, and Teflon insulated wires and cables.
Schleuniger will also debut its newest series of crimp applicators. The new series of crimp applicators replaces the Uni-A and Uni-G series. The new applicator series provides a more economical product line with a broader range of applications. Aside from the expanded application range the series provides a significant cost reduction compared to their predecessors.
Many additional new products and machine features will be demonstrated along with other popular wire processing machines from Schleuniger.
For the first time, wire processing training courses will be offered during the expo. Classes will be provided for both beginner and advanced level wire processing professionals. "Wire Processing Basics" will be held Wednesday, May 10 from 8:30 A.M. to 11:00 A.M. and "Beyond the Basics: Solving Challenging Applications" will be held Thursday, May 11 from 8:30 A.M. – 11:00 A.M. Both classes will be held in room 202B. You may choose to take one course or register for both! Classes are free and open to all Electrical Wire Processing Technology Expo attendees, but advanced registration is required and space is limited.
For more information and to register visit www.schleuniger-na.com/training/registration.
In addition to visiting the exhibitor booths, attendees of the Electrical Wire Processing Technology Expo are encouraged to attend technical seminars presented by industry experts. Bernd Jost, Managing Director at DiIT, which was recently acquired by Schleuniger, will present an educational seminar on the benefits of Manufacturing Execution Systems. The presentation, "Manufacturing Execution Systems…Your Competitive Advantage!" is open to all attendees.
More information can be found at www.schleuniger-na.com/wpte. Should you have any questions, please e-mail sales@schleuniger.com or call (603) 668-8117.
About Schleuniger
The Schleuniger Group in Thun is a globally active technology company and a leading supplier to the wire processing industry. Most of the Schleuniger Group's customers are active as suppliers for the automotive, entertainment, and information industries as well as for the communications sector. Schleuniger's products are used whenever precise contact connections play a role. The company has development and production locations in Switzerland, Germany, and China. Thanks to its four sales and service companies, in the US, Germany, China and Japan, and 40 distributors worldwide, Schleuniger is always in close proximity to its customers.
The Schleuniger Group represents the wire processing business segment of the publicly listed Metall Zug Group and has approximately 640 employees and 30 apprentices worldwide.
Schleuniger, Inc.
87 Colin Drive
Manchester, NH 03103 USA
Phone: (603) 668-8117
Fax: (603) 668-8119
Schleuniger, Inc.
87 Colin Dr.
Manchester NH 03103
Phone: 603-668-8117
Contact: April Grossman
Marketing Coordinator
email: aprilgrossman@schleuniger.com
Related