Sanitary Continuous Processors Speed Cream Center Candy Production, Save Heat History, Cut Cleaning Time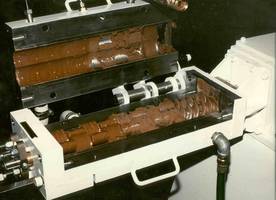 Readco Kurimoto to Showcase Continuous Processor at PMCA Booth #62
York, PA: Sanitary Continuous Processors from process equipment manufacturer Readco Kurimoto, LLC, York, Pa. (www.readco.com), speed the production of chocolate candies and confections filled with creams, nut butters and other ingredients in their centers while meeting tight requirements for taste, texture, moisture content and mouthfeel. Replacing the time-intensive, multi-step batch mixing process with a leaner, cleaner approach, the Continuous Processors automatically mix multiple ingredients in minutes with a short residence time to minimize heat history, reduce exposure to the mixing action, and protect sensitive products from the degradation and breakage common to long periods of batch mixing. Batch to batch variations and labor-intensive cleanup are also eliminated in favor of an uninterrupted, 24/7 operation on a more compact footprint.
To be showcased at the Professional Manufacturing Confectioners Association (PMCA) Production Conference in Lancaster, PA, on April 8th, 2019, the self-cleaning Continuous Processors mix and blend fruits, nuts, sugars, cheeses, cookie doughs, flavors, and other wet and dry ingredients as a homogeneous product with dark, milk, semi-sweet and other types of chocolate. The USDA- and 3A-compliant (optional) Continuous Processors come in stainless steel with one-piece, removable shafts and end plates as standard and fully disassemble for easy cleaning and product changeover.
The food-grade Readco Continuous Processors are custom-engineered for each application based on laboratory testing using customer materials and formulations to verify performance. The continuous systems are manufactured in the company's York, Pa. headquarters and are delivered assembled, fully tested and ready for operation.
For a free brochure or more information, contact Readco Kurimoto, LLC, 460 Grim Lane, York PA 17406; 800-395-4959; or see www.Readco.com.
Media Contact: Paul Entin at 908-479-4231, paul@eprmarketing.com or David Sieglitz at 800-395-4959
Contact This Company Download Spec Sheet
More from Chemicals & Gases