Sanborn Technologies Features Coolant and Oil Centrifugal Filtration at IMTS '06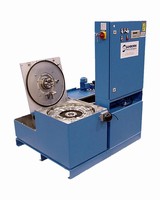 Focus on Equipment for Fluid Management... Recovery, Clarification, Waste Minimization

Sanborn Technologies, Walpole, MA is presenting their integrated product line of separations equipment for metalworking fluids with their exhibit at IMTS in the Abrasive Pavilion of the North Hall, B- 7522. The Company's systems offer comprehensive separation solutions to manufacturers who must deal with swarf and tramp oil removal from coolants or oils at their machine tools, in central systems or end-of-pipe plant waste streams. Centrifuges, Sump Cleaners, Coalescers and Membrane systems will be displayed including the introduction of the T14RCS, a compact filtration system.

In the Abrasive Pavilion the company will be demonstrating the process functions of the automatic discharging Turbo-Separator. A single unit of this versatile family of centrifuges can remove up to 65 pounds per hour of dry swarf or sludge. The centrifuge produces dry solids due to its unique bowl design and high rotational speeds. Units are PLC controlled, virtually eliminating operator intervention for sludge removal, and they are easy to interface with other equipment. The company will also be displaying a range of other centrifuge systems for Coolant and Oil Clarification.

The company is demonstrating equipment for Tramp Oil and Sludge Removal and displaying Ultrafiltration Technology for Waste Minimization of oily water.

Under the category of Tramp Oil and Sludge removal, the Freddy TOS and Freddy Ecovac will be continuously operated. The TOS is a heavy-duty portable tramp oil removal system that is easy to use in the shop environment with a suction head designed to fit into the tightest spaces. The Ecovac is a unique sump cleaner capable of simultaneous suction and discharge of fluids at the machine sump. This unique action allows the sludge in the bottom of a sump to be removed without draining the sump.

In the area of Waste Minimization, Sanborn Technologies will be displaying the redesigned UFV250TV, an ultrafiltration system designed for waste minimization of oily wastes, recycling of mop water or recovery of compound from tumbling and vibratory systems. The system was specifically designed for abrasive and high solids applications. The UFV250TV is part of a complete line of membrane systems that will reduce waste disposal costs by as much as 98%.

Sanborn Technologies offers a complete line of equipment for industrial fluid purification. The company specializes in cutting fluid separation, recovery, dewatering and waste minimization.

For more information on Sanborn Technologies, products or applications support contact:
Steven Friedman at 1-508-660-9150 ext. 3112, FAX: 508-660-5191 or Email at [email protected].