Rustlick PowerSaw Superior Synthetic Fluid Designed for Sawing Applications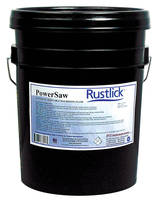 Glenview, IL - April 15, 2009 - Rustlick PowerSaw is a heavy-duty, synthetic fluid formulated for band and circular sawing applications. It contains advanced lubricants and is designed with a high level of non-chlorinated E.P. additives to extend blade life and reduce machine wear.

Rustlick PowerSaw is highly resistant to bacteria and fungus as well as superior tramp-oil rejection for significantly prolonged sump life when compared to water-soluble oils. This cutting fluid contains boundary lubricants to create a light oil barrier that protects the working part and the machine from rust. With Rustlick PowerSaw shops use less coolant, purchase fewer blades, reduce machine maintenance, and improve the quality of cuts, all of which add up to considerable cost savings.

Rustlick PowerSaw also works well in machining applications and can be used with most ferrous and nonferrous metals. Rustlick PowerSaw is a minimal foaming, transparent blue solution and is available in 1, 5, or 55 gallon containers.

ITW ROCOL North America designs and manufactures a full line of coolants and lubricants for the metalworking industry including the Rustlick product line of metalworking fluids, dielectric oils, corrosion-control products and sump maintenance systems.