Rush Easy-Cut Semi-Automatic Carbide Rod Cut-Off Machine on Display at IMTS 2022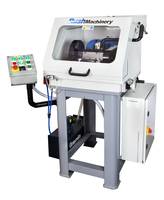 Rush Machinery will showcase its Easy-Cut Semi-Automatic Carbide Rod Cut-Off Machine at the International Manufacturing Technology Show (IMTS), being held at Chicago's McCormick Place September 12-17. Rush Machinery can be found in Booth 237233.
The Easy-Cut is designed for quick and easy cutting of carbide rod and tool ends with diameters between 1/8 inch to 1 ¼ inch. Built in the United States, the Rush Easy-Cut is fully enclosed and available in semi-automatic or manual models. The semi-automatic model features PLC controls, pneumatic clamping, hydraulic in-feed, and an LCD readout measurement. Also great for high speed steel!
Rush Machinery specializes in manufacturing, servicing, and marketing a complete line of production and support machinery for the cutting tool industry: Wheel Truing and Dressing Machines, Dynamic Balancing Machines, Carbide Rod and HSS Cut-Off Machines, Grinding Fluid Filtration Systems, Polycrystalline Tool Grinders, Drill and Tool Grinders, as well as Tool Grinding Fixtures. A commitment to quality, service and innovation since 1983 has made Rush Machinery an industry leader.
For Further Information, Please Contact:
Doug Lewis
Sales Manager
Rush Machinery, Inc.
4761 Route 364
Rushville, NY 14544
Tel: 800-929-3070 / 585-554-3070
Fax: 585-554-4077
Email: [email protected]
Web: www.rushmachinery.com