Rugged COM Express® - PICMG COM.0 Meets VITA 59 RCE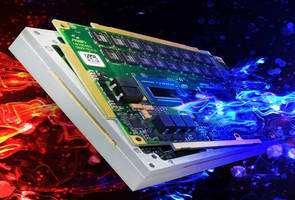 Nuremberg, Germany – The new VITA 59 standard enables the proven COM Express technology to be used in mission-critical and harsh environments. New mechanical parameters guarantee operation across an extended temperature range, while providing high shock and vibration resistance as well as EMC protection.



PICMG COM.0 combines with rugged parameters for reliable operation

Being a new VITA standard, Rugged COM Express is based on the well-known and wide-spread PICMG standard COM.0 or COM Express. Rugged COM Express or VITA 59 RCE has been developed for mission-critical applications with higher requirements for thermal design, shock/vibration, environmental influences and EMC.



Rugged COM Express adds PCB wings for mounting the electronics inside a conduction cooled aluminum frame. The CCA technology can be combined with passive cooling making electronics working in high temperature ranges also without high-maintenance fans. One railway application which benefits from the easy extension of the temperature range is a locomotive drive control which requires full EN 50155 compliance and an extended temperature range from -40 to +125°C with passive cooling.



Through the massive metal block with the electronics inside firmly screwed, the design delivers high resistance against shock and vibration. This is an essential advantage in the harsh mining environment. The electronics of a control platform for mining machines – inside an IP67 compliant housing – have to withstand extremely high vibrations of up to 5G and must be shock proof for up to 50G. RCE is the perfect choice here.



The Rugged COM Express standard also allows 100% EMC protection thanks to the metal cover on top and all four sides, plus the bottom cover from the carrier board. In medical applications the systems often need very low EMC values. Systems with dual-redundant CPUs – one for processing and one for HMI control – can communicate undisturbed.



Another advantage of the cover frame is protection from dust, chemicals or humidity within a sealed enclosure, also in combination with conformal coating.



Finally many applications – especially in the rail and avionics markets – require long-term-availability of up to 30 years. This is ensured by the EOL management at MEN and gives customers planning reliability and saves costs because of longer life-times of the systems.



Rugged COM Express provides the required computing functions always with an eye on the requirements of the complete systems and thus saving significant cost for the solution. As typical quantities in this kind of applications are significantly lower and do often not allow customized designs, Rugged COM Express gives a cost-effective alternative for flexible but also rugged systems.

You can find this press release and photo under www.men.de/press.



For product information please go to http://www.men.de/products/computer-on-modules,rugged-com-express,rce.html



Twitter

Facebook

Google+

YouTube

RSS



MEN Mikro Elektronik – Profile and Mission

Embedded Solutions – Rugged Computer Boards and Systems for Harsh, Mobile and Mission-Critical Environments

Since its founding in 1982, MEN Mikro Elektronik has focused on innovation, reliability and flexibility to develop and produce standard and custom computing solutions that employ the highest technology levels. The company – with more than 250 employees worldwide – provides a robust offering of highly reliable embedded COTS boards and devices widely used in extreme environmental conditions found in industrial and safety-critical applications.



MEN Mikro Elektronik's product offering comprises a huge selection of:

CompactPCI / PlusIO, CompactPCI Serial and VMEbus boards and 19" systems

Standardized computer-on-modules with carrier board development support

Standardized mezzanine I/O cards to complete system functionality

Ethernet and fieldbus network interfaces, switches, routers and gateways

Scalable box PCs and panel PCs with easy adaptation capabilities

Safe computers certifiable up to SIL 4 and DAL-A



For individual requirements, starting with development through design-in and beyond, MEN provides its customers with advice and support as well as with system design, configuration and environmental qualification in accordance with industry standards.



The company's core competencies encompass x86 and RISC processor architectures, development rules for safe applications, analog I/O design, FPGA technology and Windows, Linux and real-time operating systems. Additional expertise includes RAMS and obsolescence management as well as the development of computing hardware for operation in harsh and extreme environmental conditions.



MEN Mikro Elektronik's computer solutions are used in harsh mission- and safety-critical environments found in the transportation (rail, road, air, sea) and industrial (automation, power & energy, medical, mining) markets.



The company is certified to ISO 9001, ISO 14001 (environment), EN 9100 (aerospace) and IRIS (railway) quality management systems, provides systems according to E1 (road traffic) requirements and is a member of several industry associations, consortiums and alliances, including VITA and PICMG.

Related