RTP Company's Glow-in-the-Dark Masterbatch Helps Medics Save Lives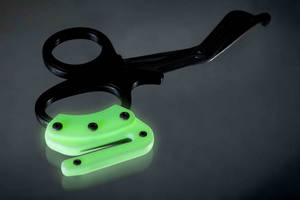 WINONA, MINNESOTA, USA - When the inventors of the Rip Shears* Ripper received feedback from medics in the field that their life-saving product would be even more effective if it glowed in the dark, they and co-developer ICON Injection Molding, sought assistance from custom compounder RTP Company because of their expertise with visual effects.

Attached to a standard trauma shears, the Rip Shears Ripper allows emergency medical personnel to quickly slice through multiple layers of clothing, equipment and body armor to access and treat wound sites. Accessing injuries can take valuable minutes -- time that can mean the difference between life and death. While medics loved the snip and "rip" performance of the product, a glow-in-the-dark version would allow even faster usage at night or in low light conditions.

"This was a very specific request; we hadn't done a glow-in-the-dark product before," explained Steve Kleitsch, ICON's co-owner. "But, we were aware of RTP Company's expertise with visual effects, so we brought them in for assistance."

The Rip Shears Ripper uses an RTP 200 Series glass fiber reinforced nylon 6/6 compound. It provides the stiffness needed to allow the blade to stay on track and flow through fabric cleanly. If the plastic were to flex, even slightly, bunching of the fabric could slow down the ripping process.

For the glow-in-the-dark version, called the Rip Shears Firefly, RTP Company supplied a phosphorescent glow-in-the-dark color masterbatch that combines with the reinforced nylon compound during molding. Advanced glow-in-the-dark technology imbues the material with an "afterglow" effect that lasts for up to 8 hours, which is about 10 times longer than traditional GITD technologies.

"RTP Company got the glow-in-the-dark effect and product performance right on the first try, right out of the gate," said Kleitsch. "The inventor loved it and we began production immediately." He added, "RTP Company delivers a consistent, high quality product. I like their great access to technical support, and they are very effective at educating us on possibilities and opportunities with plastics. Having this glow-in-the-dark effect at our disposal is a great addition to our overall offering. It's another capability we like to present when we talk to customers who may not be aware of the possibilities with this technology."

For more information on RTP Company's visual effects for plastics or custom engineered thermoplastic compounds, call 507-454-6900 or toll-free 800-433-4787, visit www.rtpcompany.com or e-mail [email protected].

About RTP Company

RTP Company, headquartered in Winona, Minn., is a global compounder of custom engineered thermoplastics. The company has 12 manufacturing plants on three continents, plus sales representatives throughout the Americas, Europe, and Asia. RTP Company's engineers develop customized thermoplastic compounds in over 60 different engineering resin systems for applications requiring color, conductive, elastomeric, flame retardant, high temperature, structural, and wear resistant properties.

About ICON Injection Molding

ICON Injection Molding, located in Phoenix, AZ, was founded by three brothers who are dedicated to old-world craftsmanship and achieving world-class success.

For more information visit their website at www.iconinjectionmolding.com. For details on the Rip Shears Ripper please visit www.ripshears.com.

* Rip Shears is a trademark of Rip Shears LLC.