Rotomolding Specialists Continue Tornado Shelter Innovations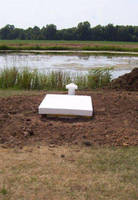 The Granger Plastics Company continues to innovate upon its industry leading In-ground Safety Shelter design by converting the door to polyethylene. Granger Plastics was the first tornado shelter manufacturing company to have a FEMA 320 exceeding aluminum door and now is the first tornado shelter manufacturer to have a FEMA 320 & FEMA 361 exceeding polymer door. Granger Plastics is an internationally recognized rotational molding manufacturing leader, known for engineering high quality and extremely durable products. The conversion of the Granger ISS In-ground Tornado Shelter door is another industry leading example of such.

The new polymer doors were tested at Texas Tech University at the Wind Science & Engineering Research Center Debris Impact Test Facility on June 16th and exceeded both the FEMA 320 and FEMA 361 specifications. Those tests include having a 15 lb. 2x4 projected by air cannon at speeds of 67 mph and 100 mph. These speeds simulate debris falling from and being propelled by an F5 tornado with wind speeds of approximately 250 mph. The FEMA 320 & FEMA 361 testing is the general standard and specifications for tornado shelter safety and usually a requirement for receiving grant monies offered by FEMA and local EMA offices.

The Granger ISS In-ground Tornado Shelter door is equipped with dual double wall panels, 3 point locking system, two gas assisted shocks for ease of opening, large comfortable exterior hand grips for the opening of the door and 2 interior handles. The new door comes standard in white but is also available in custom colors including stone-like gray granite, grass like greens, or even darker colors such as Alabama evergreen. With the evolution of the new tornado shelter door, Granger Plastics continues to demonstrate its commitment to innovation and world class products. For more information on the Granger ISS Tornado Shelter, please visit www.ingroundsafetyshelter.com. For more information on Granger Plastics Rotational Molding, please visit www.grangerplastics.com.


More from Fluid & Gas Flow Equipment