Rinco Ultrasonics to Introduce AGM Pro Ultrasonic Generator for Automated Welding at NPE2018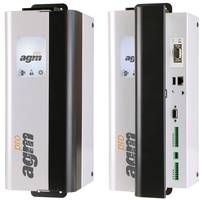 DANBURY, Conn., January 25, 2018 – Rinco Ultrasonics USA, a leading manufacturer of ultrasonic welding equipment, will launch its new AGM Pro ultrasonic generator at NPE2018 May 7-11 at the Orlando County Convention Center in Orlando, Fla. (Booth #W5373).
The new ultrasonic generator is designed to be built into automation lines and special- purpose machines for controlling ultrasonic components. The digital, Industry 4.0-capable AGM Pro is an upgraded version of Rinco's current AGM ultrasonic generator and is perfectly suited for semi-automated and automated applications mostly for the automotive, packaging, and food cutting industries.
"We took our most popular generator that originated as a culmination of our top customers' requests and did it once again," said Gordon Hull, U.S. managing director of Rinco Ultrasonics. "This time we took years of collected data and built a new version of the AGM from the ground up that will revolutionize the way the industry integrates ultrasonics into their assembly machinery."
Compact and lightweight construction                                                                               
Like its predecessor, this completely redeveloped ultrasonic generator boasts a narrow design, has smaller dimensions, and is almost 50% lighter. Due to its smaller size, the AGM Pro installs perfectly in electrical cabinets, where depth and height dimensions are most restricted. The digital inputs and outputs are clearly arranged and are easy to connect.
The new ultrasonic generator primarily differs from its predecessor in terms of parameter input and process analysis and, unlike its predecessor, is capable of storing up to 16 parameter sets. Welding parameters can also be defined using the integrated 3.1-in color touch-screen display as well as through a mobile terminal or PC using a specially developed AGM Pro web application. The AGM Pro generator is typically driven via PLC but can also be used as a stand-alone pre-programmed unit. .
Numerous communications protocols
The AGM Pro ultrasonic generator is equipped with a communications module for numerous industrial protocols. Ultrasonic generators were previously limited to the RS485 and CANopen protocols. The new communications module now additionally covers further protocols such as Ethernet/IP, Profibus, Profinet, EtherCAT, DeviceNet, and others. Communication with the PLC is easy to configure and suitable for any application implementation. Now whether this unit is integrated in the U.S., Europe, or anywhere on the globe, the user will find a communications protocol for every application and preference. This allows equipment built in other global locations to be a viable option for local use.
The AGM Pro has a soft start and soft stop function to ensure that complex sonotrodes can be gently ramped up and down. There are a total of six selectable welding modes: Time, Energy, Time or Energy, Time and Energy, Contact cut-off, and Continuous. The AGM Pro digitally acquires all parameters, including error messages during operation. This means no lag time or wait time for the generator to compile information from the previous weld. This also allows for increased cycle times which improve productivity. The software arranges the errors into "generator," "oscillator system," and "limits" faults for ease in troubleshooting and reducing valuable downtime. For quality control, numerous limit values can be set which trigger a warning or stop function to the machine. Once the welding operation is complete, an operator can use the web application to access, analyze, and document all important results and welding parameters.
About Rinco Ultrasonics                                                                                                               
Rinco Ultrasonics USA (www.rincoultrasonics-usa.com), headquartered in Danbury, Conn., has been a specialist in the design and manufacture of ultrasonic welding machines and ultrasonic cutting equipment since its founding in 1976. Rinco products are used for the reliable welding of plastic components and for cutting foodstuffs and synthetic textiles. With its many years of expertise in the development of innovative solutions and consulting in the field of application technology, Rinco is an acknowledged and reliable partner to many companies in the automotive industry, medical technology, textile and food processing, packaging, electrical engineering, plant and machinery construction, telecommunications, and household and leisure. The company has been a member of the internationally active Crest Group since 1997 and, with its own branches and representatives in over 40 countries around the globe, offers outstanding proximity to the customer. For more information, visit www.rinco-usa.com.
Related