Richardson Electronics Improves Ultra-Broadband Circuit Designs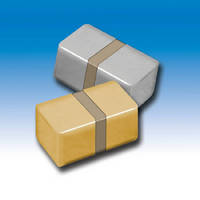 Technologically Advanced RF, Microwave, and mmW Surface-Mount Capacitor

The 550L Series UBCTM (Ultra-Broadband) Capacitor from American Technical Ceramics (ATC) provides reliable and repeatable Ultra-Broadband performance from 16 kHz to over 40 GHz. Desired features include:

o Defense/Aerospace Extended Operating Temp. Range (-55ºC to +125ºC)

o One-piece, Orientation-Insensitive Package (Rugged Ceramic Construction)

o Ultra-low Insertion Loss (< 0.5 dB)

o Flat Frequency Response

o Excellent Return Loss (see datasheet)

o RoHS Compliant Terminations (Gold-plated or Tin-plated available)

This 100nF capacitor is ideal for DC Blocking, Coupling, and Feedback applications requiring Ultra-Broadband performance. The applications include Receive and Transmit Optical Subassembly (ROSA/TOSA) circuits, trans-impedance amplifier (TIA) designs, optoelectronic high-speed data circuits (such as SONET), and broadband test equipment.

Datasheets and samples for the ATC 550L Ultra-Broadband Capacitor are available now from Richardson Electronics, by calling 1-800-737-6937 (within North America); or please find your local sales engineer (worldwide) at http://www.rell.com/RFPD.

More from Architectural & Civil Engineering Products