Remote Systems Support Using WolfLink(TM) is Now Available from Wolf Robotics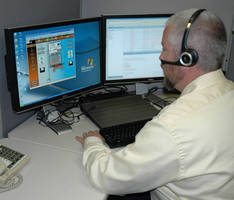 Wolf Robotics develops new remote system support for robotic system monitoring and management.

Fort Collins, CO: Remote diagnostic assistance from Wolf service personnel is now available from anywhere in the world using WolfLink. Management can monitor production output, analyze cell performance, manage shifts and operators, generate reports and more with this new internet connection package that links to the Wolf Cell Control.

The secure, remote connectivity allows Wolf engineers to trouble shoot, download software updates and even conduct online training. Customers can select from existing reports or design their own to track important system functions including downtime, overall equipment effectiveness and total production maintenance.

Wolf Robotics (www.wolfrobotics.com) is a leader in custom robotic metalworking equipment, technology, manufacturing and servicing.

Wolf Robotics, currently has supplied over 8,200 robots worldwide for welding, cutting, material handling, material removal and machine tending. For further information about other Wolf Robotic products (http://www.wolfrobotics.com), write to: Wolf Robotics, 4600 Innovation Drive, Fort Collins, CO 80525, call (970) 225-7600 or send an email to: Chuck.Boyer@wolfrobotics.com. To request electronic files of the release and/or photos contact Chuck Boyer at (970) 225-7784.

More from Sensors, Monitors & Transducers