Manufacturing Execution Systems
Recent Browser Interface Improvements to Syscon-Plantstar's MES Production/Process Monitoring Systems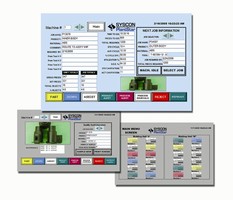 SYSCON PlantStar will introduce recent browser interface improvements to their PANORAMA®, PORTRAIT® and SNAPSHOT® MES (Manufacturing Execution System) for Production and Process Monitoring at NPE 2006 (Chicago's McCormick Center, booth #1218 South).

Recent improvements to these new browser interface systems include:

o Graphical "drill down" machine icons (eliminates operator search time)
o Digital product pictures on the production "JOB" screen (removes potential misidentification of scheduled job to run)
o New and improved metrology sampling
o All reporting functions (production, process, rejects and downtime analysis using Pareto's, charts, more)
o History editing tools (password protected)
o Labor tracking
o FDA 21CFR Part 11 digital signatures (eliminates antiquated paper systems in medical molding applications)

The advanced system configuration can connect production equipment with a single point Computer Interface Module (CIM) that feeds multiple users within a networked plant configuration...providing immediate information to numerous job functions. The Microsoft Window®-based system allows you to manage job scheduling factors in a real-time manner, collect and analyze statistical quality data to define process deterioration trends, as well as monitoring the causes of downtime and scrap. A wide range of automated data collection/reporting/forecasting features include:

o Advanced SPC analysis and machine data collection
o Integration with ERP/MRP/EDI preventive maintenance tracking/scheduling
o Expanded downtime and scrap functions
o Electronic web-hosting of quality and operation documents
o ISO 9000 document facilitation

"SYSCON was the first to use browser technology for the plastics industry shop floor monitoring system," states Richard Goldstein, Vice President of SYSCON-International. "We've implemented the latest in internet technologies and customer input has helped us to define the best in class operator interface functions, helping us position PlantStar products as the most comprehensive and user-friendly in industry."

PANORAMA® is an advanced offering from the SYSCON PlantStar line of production monitoring and process management systems. Suited for larger plants, it provides more plant floor data points; increased functionality of production, process and SPC capabilities; increased database storage and ODBC connectivity. Our SNAPSHOT® (up to 8 interactive users on network) and PORTRAIT® (up to 12 interactive users on network) systems also provide solutions suited to your facility's size and overall requirements. SYSCON PlantStar provides turn-key installation services including on-site training and on-line technical support.

SYSCON PlantStar is a worldwide supplier of Manufacturing Execution and Monitoring Systems that are used in various industries such as plastics, metals (molten, machined, stamped), rubber, corrugated paper and a host of others. For additional information on PlantStar products, contact SYSCON-PlantStar: 1108 S. High Street, South Bend, IN, 46601. Phone: 574-232-3900, Fax: 574-287-5916, or E-mail: marketing@syscon-intl.com. Visit the PlantStar website at www.syscon-intl.com or www.plantstar.org.

More from Packaging Products & Equipment