Ratchet Clutches Provide Versatile, Four-Way Motion Control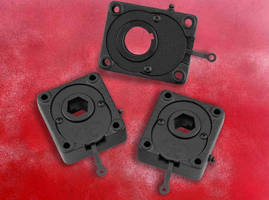 Worcester, MA - Ratchet clutches from Lowell Corporation offer users several options in controlling motion: one-way left, one-way right, freewheeling, and fully locked.

Among the applications for Lowell ratchet clutches are manual backstopping for conveyor belts, overrunning capabilities for dual motor set-ups, and indexing for machinery.

Each standard Lowell clutch body contains only a gear, two spring-loaded pawls,
and a control lever. This design simplicity enhances durability and reduces cost to buy and operate.

Moving the control lever to the side engages a pawl and permits driving the gear in one direction only, while moving the lever to the other side drives the gear in an opposite direction.

In addition to clockwise and counterclockwise ratcheting action, these units feature a neutral position, selected by centering the control lever. Shifting into neutral engages the gear with both pawls and prevents the gear from turning.

For even greater versatility, Lowell can supply dual control levers. When positioned to each side, the levers engage both pawls to provide a neutral, free-running function. Control levers can be actuated by solenoids, cylinders, mechanical linkages, or manually.

Forces are applied in an optimum manner between gear and pawl so that loads are in compression, rather than in shear. The low carbon steel gears feature rugged tooth design that has a large contact area with the pawls for sure engagement and reliability.

Body sizes range from 2-7/8" (73mm) to 2-3/8" (60mm) x 15/16" (60mm) to 10-7/8" (276mm) x 8-3/8" (213mm) x 1-15/16" (49mm). Gear sizes range from 1/2" (13mm) to 4-5/8" (120mm).Static torque ranges from 200 lb-ft (272 Nm) with an overrunning speed of 250 rpm to 6260 lb-ft (2817 Nm) with an overrunning speed of 30 rpm.

Each clutch body contains holes for mounting. Gear openings are available in hex, square, and bore and keyway. Keyways are per ANSI/ASME B17.1. Lubrication is required only after 1200 hours of use. Lowell can provide specials with the buyer's choice of free-running neutral, size, shape, and gear tooth arrangements.

Like all of the company's products, Lowell's ratchet clutches are guaranteed against defects in material and workmanship for a period of one year from date of delivery.

For more information about Lowell ratchet arms, or for a full-line catalog, call 800/456-9355 or 508/835-2900, or email customerservice@lowellcorp.com.