R.A JONES to Sell, Support, and Service VOLPAK Machines for the US Market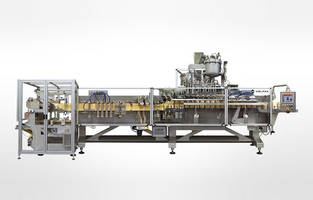 Improving US-based manufacturer's and co-packer's confidence in imported pouching machines
COVINGTON, Ky., March 2, 2017 - R.A JONES announced that it will sell, support, and service VOLPAK's innovative line of horizontal Form-Fill-Seal pouch machines in the U.S. effective immediately. This collaboration leverages R.A JONES' U.S.-based manufacturing and service infrastructure (3 operating facilities and 45+ service technicians) and VOLPAK'S premium line of equipment to provide customers with one of the strongest pouch packaging manufacturing teams available in the U.S. market.
This announcement comes on the heels of VOLPAK's SI-280 machine (for large format stand-up pouches with zipper features), arriving from Spain to R.A JONES' showroom floor at their Covington, KY facility, which is available for customer demonstrations and/or immediate delivery.
"VOLPAK has a long and proven history of engineering quality and innovative packaging machinery, making it a true global leader in horizontal Form-Fill-Seal pouching technologies," said Marty Bechtel, Sales Director at R.A JONES. "By utilizing R.A JONES' sales channels and experienced on-site after sales technicians and support team, U.S.-based customers will quickly realize the benefits associated with this collaboration."
The collaboration will expose the U.S. market to multiple innovative pouching solutions developed by VOLPAK to improve consumer experiences with customer products. VOLPAK is known for developing pouching solutions that improve product shelf life, convenience and product application. A recent example being their Standcap pouch, currently being used by Daisy Brands for sour cream applications.
Santy Witarsa, CEO at VOLPAK commented, "Having R.A JONES represent and support our initiatives in the U.S. is evidence of our quality and service commitment to VOLPAK customers around the world. R.A JONES has a deep understanding of the intricacies of our machines and will help us create stronger partnerships with U.S.-based manufacturers and co-packers who prefer the level of local support R.A JONES can provide."
R.A JONES is a global leader in the design and manufacture of primary and secondary packaging machinery for the food, pharmaceutical, dairy and consumer goods industries. VOLPAK is the global leader in form-fill-seal solutions for the pouch packaging industry and offers the most innovative solutions on the market. R.A JONES and VOLPAK are part of Coesia, a group of innovation-based industrial and packaging solutions companies operating globally, headquartered in Bologna, Italy.
Contact:
R.A JONES
2701 Crescent Springs Road
Covington, KY 41017
Phone: 1.800.216.4499
Email: [email protected]
SOURCE R.A JONES
Web Site: http://www.RAJones.com