Quester Tangent Brings Production In-House, Selects Universal as SMT Solutions Provider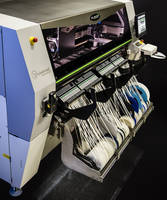 Premier train electronics provider extends autonomous capabilities with installation of NPI line.
Quester Tangent is a leading manufacturer, supplier, and integrator of train electronics and software solutions for the passenger rail and locomotive industries in North America. The company has installed a Universal Instruments production line in its Saanichton, British Columbia manufacturing facility. The new solution is an NPI line featuring a FuzionXC2-37™ surface mount platform. It is the first automated production line for Quester Tangent, enabling the company to bring small-batch product builds in-house rather than relying on regional contract manufacturers for all of its production requirements.
Quester Tangent is a Canadian company that has served international markets for more than 30 years and began providing train management systems in the early 1990s. The company now offers a full portfolio of capabilities and services, delivering complete train electronics and software solutions in rail-robust packages that meet each fleet's unique requirements. Quester Tangent is a trusted partner of the world's major train manufacturers and transit authorities, helping its customers increase operational efficiency, improve fleet availability, optimize on-time performance, and enhance passenger safety and comfort.
The FuzionXC2-37 is an all-in-one NPI solution featuring 272 8mm feeder inputs and the ability to support multiple products in a single setup. It also supports virtually any type of feeder and a large component range from 01005 to 150mm square and 25mm tall. In addition, Fuzion Platform software ensures a fast and precise NPI process to maximize yields and expedite time to market.
"For us, line length was important due to the limited amount of available space. Universal was able to provide us with a solution that maximizes our feeder capacity within that footprint while giving us a complete NPI solution," remarked KD Singh, Quester Tangent Director of Operations. "We're also keen on leveraging the support of Universal's Advanced Process Lab (APL) as we take our first venture into in-house automated manufacturing. We'll look to the APL's process development expertise to ensure optimal performance and reliability of our customers' products – some of which are mission-critical."
Universal Instruments Vice President of Customer Operations, Brad Bennett noted, "We were able to deliver a complete turnkey solution to Quester Tangent by integrating a Speedprint printer, Heller ovens, and peripheral equipment such as air compressors, dryers and ventilation. This line gives Quester Tangent the versatility and full-process capability needed to thrive in an NPI environment."
To learn more about Universal's solutions for any electronics manufacturing challenge, contact Universal Instruments at +1-800-432-2607 or +1-607-779-7522 or visit www.uic.com.
About Quester Tangent
Founded in 1983, Quester Tangent is a leading North American manufacturer, supplier, and integrator of train electronics and software solutions for the passenger rail and locomotive industries. Quester Tangent features a complete portfolio of technology products for the rail transportation industry: TrainWise, flexible on-board train and locomotive electronics, FleetWise, innovative fleet management software and TestWise, comprehensive test equipment products. The company is ISO 9001:2015 certified. For more information, visit: QuesterTangent.com or call 1-855-510-7837.
About Universal Instruments
Universal Instruments is a global leader in the design and manufacture of advanced automation and assembly equipment solutions for the electronics manufacturing industry. Universal Instruments delivers comprehensive solutions to a global customer base by leveraging exclusive process expertise combined with its innovative portfolio of flexible platformsfor surface mount, insertion mount, advanced semiconductor packaging, and end-of-line automation. Universal Instruments is headquartered in Conklin, N.Y., USA, with offices in Europe, Asia and the Americas.
Universal Instruments contact
Jeffrey Zopff
Global Marketing Communications Manager
Universal Instruments Corporation
33 Broome Corporate Parkway
Conklin, NY 13748
USA
Tel: +1 607.779.5364
Email: zopff@uic.com
www.uic.com
Quester Tangent contact
Asmâa Methqal, MA
Sr. Marketing Communications Manager
Quester Tangent Corporation
6710 Bertram Place
Saanichton, British Columbia
V8M 1Z6
Canada
Tel: +1 250.208.2964
Email: contact@questertangent.com
www.questertangent.com
More from Electrical Equipment & Systems