QED Environmental Systems' Groundwater Sampling Pump Tested PFC-Free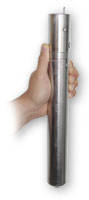 Sample Pro pump and components tested by independent laboratory
Dexter, MI – Q.E.D. Environmental Systems, Inc., a leading manufacturer of innovative environmental products and subsidiary of Graco Inc., announces that the Sample Pro® Portable Pump, the first pump developed specifically to deliver low-flow sampling to sites requiring portable pumps, has been tested to be free of PFC, a groundwater contaminant. Sample analysis by an independent laboratory showed no detections for 24 different perfluorinated compounds at detection limits much lower than the U.S. EPA Health Advisory of 70 nanograms per liter for perfluorinated compounds under advisory.
Perfluorinated compounds (also called PFCs, perfluorinated alkylated substances or PFAS) have been identified as an emerging contaminant in groundwater. Site owners and environmental consultants have been tasked with sampling for the presence of these chemicals at extremely low concentration levels, down to parts per trillion (or nanograms per liter).
The Sample Pro Portable Pump combines the unparalleled sample accuracy and high reliability of a bladder pump in an easy-to-use package. Its twist-open design makes it easy to change the disposable bladder in seconds. The pump runs cool, can run dry without damage, and can be operated using any of QED's Micro Purge® controller options: a 12-volt integral compressor, a Honda® motor-powered gasoline-driven compressor, an external compressed air cylinder, or a lightweight backpack with integral CO2 cylinder. The Sample Pro pump's rugged, all-stainless construction will stand up to tough portable use. With thousands in service and nearly two decades of proven performance, the Sample Pro pump is QED's most reliable portable sampling pump. Now, in addition to all of these qualities, the Sample Pro pump and its components have been scientifically proven to be free of perflourinated compounds.
For more information, go to www.qedenv.com.
About Q.E.D Environmental Systems, Inc.
Q.E.D. Environmental Systems, a subsidiary of Graco Inc., is a leading manufacturer of innovative environmental pumping systems, landfill products, landfill gas products, and air strippers for use at landfills, mines, oil refineries and other industrial sites, as well as hazardous waste cleanup sites. Our products are used around the world for a wide range of environmental applications, including groundwater sampling, groundwater remediation pumping, landfill leachate and condensate pumping, landfill gas collection and control, landfill and biogas analysis, air stripping and VOC removal, and wireless data acquisition. Based in Dexter, MI, QED serves customers from support centers in Michigan and California. For more information, call 734-995-2547 or contact us at info@qedenv.com.
More from Computer Hardware & Peripherals