Push Button Allows Urgent Reaction in Times of Crisis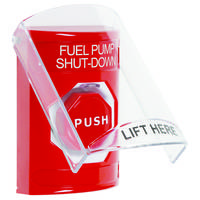 November 2, 2021 -- The Stopper Station Fuel Pump Shut-Down button from STI is a safety measure to quickly and efficiently shut off all power to fuel pumps in the event of an emergency. It safely stops fuel pump function from one centrally located switch.
An emergency isn't a time to wonder, it's a time for action. Every situation has unique challenges and needs in a dangerous circumstance, but the common requirement is urgency to act swiftly, decisively and without hesitation during a crisis.
STI's easy-to-use push button allows a user to perform a calm, effective and confident action when needed.
The multipurpose Stopper Station is available in red, green, yellow, white or blue. Its unique design helps stop accidental activation while allowing legitimate activations. Offered with standard or customized labeling (in virtually any language). Switch options include: Momentary, Key-to-Reset, Turn-to-Reset, Key-to-Activate. The versatile button can be changed during installation from Momentary to Turn-to-Reset or Key-to-Reset.
Optional illumination allows users to easily locate the button in low-lit areas. Choose to illuminate as a status light (always on) or select a color change when activated (i.e. glows green then red when activated). Optional 12-24 volt LED insert illuminates red, green or white.
Several tough polycarbonate protective covers with or without siren are available. Buttons are listed to UL and cUL standards, ADA Compliant.
For additional information on STI Stopper Stations or the entire Stopper® Line, call 248-673-9898, email info@sti-usa.com or visit www.sti-usa.com. STI's address is: 2306 Airport Road, Waterford, MI 48327-1209.
Contact This Company Download Spec Sheet
More from Electrical Equipment & Systems