Protect Important Devices with STI's Heated Enclosures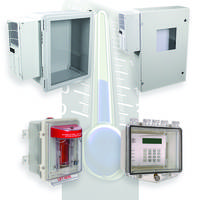 February 7, 2023 – STI's heated enclosures and covers offer an excellent way to secure important devices and electronics outside and in exposed environments such as unheated warehouses, storage units, freezers and more.
While temperatures plummet outside, heated covers and enclosures keep the inside of the cabinet warm, and more importantly, the appliance operational. They allow devices to be mounted in temperatures exceeding normal parameters or areas suffering from damaging temperature conditions. Help eliminate the expense of heating an entire warehouse or constructing a climate-controlled room for pull stations, keypads, control panels and more with STI's products.
To order or receive more sales information on the STI Heated Enclosures, call 248-673-9898, email info@sti-usa.com or visit www.sti-usa.com. STI's address is: 2306 Airport Road, Waterford, MI 48327-1209.