Protect Appliances from Inclement Weather with STI's Enclosures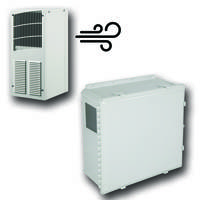 February 19, 2020 – STI NEMA 4X fiberglass and polycarbonate EnviroArmour® Enclosures are available with several ventilation options to help combat inclement weather and harsh indoor conditions.
The wireless friendly, non-metallic lockable enclosures are durable and reliable, helping to guard sensitive devices against weather, vandalism, tampering and theft. Their clean, contemporary appearance combined with their rugged, dependable performance is perfect for devices requiring protection against rain, sleet, snow, splashing water, hose directed water and impact. They are for use with control panels, medical equipment, alarm panels, wireless equipment, DVRs and more.
A variety of sizes and options are available in both models. The fiberglass enclosure offers a choice of a clear or opaque door and is cost-effective, resistant to chemical agents and helps guard against harsher environments. The polycarbonate enclosure offers a tinted or opaque door and is durable, aesthetically appealing and impact resistant. All have a removable door that is lockable or screw-down.
Ventilation options for the enclosures include: A/C with heat, A/C only, heat only, filter fans, drain vent, hygrostats, thermostats, pressure compensation vents and a variety of back panels. The covers are UL/cUL 50 Type 3R, 4, 4X, 6P, 12, IP66, and are UL/cUL Listed.
For more information on STI EnviroArmour Enclosures, or the entire Stopper® Line, call 800-888-4784, fax 248-673-1246, email info@sti-usa.com or visit www.sti-usa.com. STI's address is: 2306 Airport Road, Waterford, MI 48327-1209.
Contact This Company Download Spec Sheet
More from Non-Industrial Products