Pregis, and Sharp Packaging Exhibit Lastest Protective Packaging, Bagging Equipment at Pack Expo Las Vegas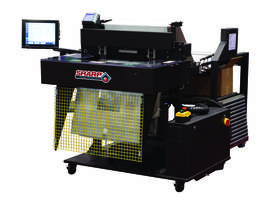 Sussex, Wisc. (August 31, 2017) – Sharp Packaging Systems and Pregis LLC are debuting their newly combined packaging equipment offerings at PACK EXPO Las Vegas, September 25-27, Booth C-2051. PACK EXPO Las Vegas represents the first joint exhibit since Pregis acquired Sharp earlier in the year.
"By adding bagging systems to Pregis' already robust protective packaging product offering, customers - particularly those whose market strategy includes ecommerce - now have another option to deliver their products to consumers," says Daché Davidson, vice president of marketing, Pregis. "Our exhibit will include a wide number of options that can help reduce labor costs and increase throughput in a variety of packaging and fulfilment operations."
Pregis will have on display AirSpeed™ inflatable void fill systems, Mailer-Box shipping solutions and the Quantum™ XT paper void fill system, as well as its newly updated Packmaster™ Pro paper cushioning system. The redesigned system can run both single- and double-ply paper and includes new preset functionality that remembers output settings for varying packages.
Sharp Packaging will be demonstrating nine machines, including their newly improved MAX 24™ bagging and mail order system. The Sharp brand is well known for the MAX™ and SX™ bagging systems and custom-made EZ® Bags. These systems are used for a variety of applications, including e-commerce, medical/pharmaceutical, retail displays, injection molding, food, linen services, and more. For more information: visit www.sharppackaging.com.
About Pregis
Pregis LLC is a leading provider of innovative protective packaging solutions, temporary protective films and automated bagging systems. The company offers products for a wide variety of consumer and industrial market segments including food, beverage, healthcare, medical devices, agricultural, e-commerce, retail, automotive, furniture, electronics, construction, and military/aerospace. For more information: visit www.pregis.com.