Powerful Machine Vision Software Fully Integrated - B&R Utilizes Comprehensive Image Processing Algorithms from MVTec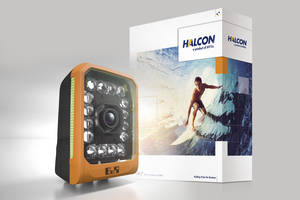 The first fully integrated machine vision system combines cutting-edge technology from two market leaders: the HALCON machine vision software library from MVTec and advanced control technology from B&R. This combination opens up new possibilities for users in industrial image processing.
MVTec HALCON makes it possible to implement robust, high-performance solutions for position detection, completeness inspection, quality evaluation, measuring and identification. "HALCON is the best vision software on the market and has already proven itself hundreds of thousands of times in industrial use. It was clear to us right from the start that we wanted this technology in our vision system," says Andreas Waldl, B&R's Product Manager for machine vision.
B&R was the first automation technology provider to fully integrate a vision solution into its system. "This is a novelty on the market," says MVTec's Head of Sales, Gerhard Wagner. "We are very proud that B&R relies on our software for this groundbreaking system."
Comprehensive portfolio
B&R's vision solution offers a variety of camera systems and lighting options. Software engineering takes place in its universal development environment, Automation Studio. Easily configurable software modules open up the field of industrial image processing to any automation engineer. The vision solution is fully integrated into the B&R system landscape, enabling microsecond communication with all the controllers, drives, safety technology and industrial PCs in the B&R portfolio.
About MVTec Software GmbH
MVTec Software GmbH is a leading manufacturer of standard software for machine vision. MVTec products are used worldwide in a wide variety of applications: in the semiconductor industry, surface inspection of fabrics and other materials, quality control and general inspection procedures, medical technology, safety technology, 3D vision and many other fields of work. Headquartered in Munich, MVTec has more than 30 distributors worldwide and an additional branch in Boston, Massachusetts.
For more information about MVTec Software GmbH, visit www.mvtec.com and www.halcon.com.
The combination of HALCON machine vision software library from MVTec and advanced control technology from B&R opens up exciting prospects for users in the field of machine vision. (Download the image (jpg) and read the press release on this page)
About B&R
B&R is an innovative automation company with headquarters in Austria and offices all around the world. On July 6, 2017, B&R became a business unit of the ABB Group. As a global leader in industrial automation, B&R combines state-of-the-art technology with advanced engineering to provide customers in virtually every industry with complete solutions for machine and factory automation, motion control, HMI and integrated safety technology. With Industrial IoT communication standards like OPC UA, POWERLINK and openSAFETY as well as the powerful Automation Studio software development environment, B&R is constantly redefining the future of automation engineering. The innovative spirit that keeps B&R at the forefront of industrial automation is driven by a commitment to simplifying processes and exceeding customer expectations.
For more information, visit www.br-automation.com.
Press Contact B&R:
Corporate Communications
Phone +43 7748 6586-0
press@br-automation.com
B&R Industrial Automation
B&R Strasse 1, 5142 Eggelsberg, Austria
Press Contact MVTec Software:
MVTec Software GmbH
Press Requests
Arnulfstraße 205
D-80634 München
Phone: +49 (0)89-457695-0
Email: press@mvtec.com
Web: www.mvtec.com
Schwartz Public Relations
Jörg Stelzer
Sendlinger Straße 42 A
D-80331 München
Phone: +49 (0)89-211 871 -34
Email: mvtec@schwartzpr.de
Web: www.schwartzpr.de/en
More from Electronic Components & Devices