Portable Solar Street Lights for Industrial Mining Facility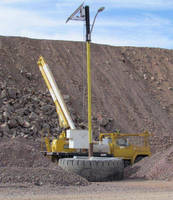 When a large industrial mining company had a need to provide lighting for key areas within their massive, constantly changing land mine facility, they turned to SEPCO to help design fully portable, off-grid solar power lighting solution. The street light systems needed to be moved as the terrain changed as well as provide efficient lighting for safety and security of workers of the mine. Since this cannot be done with traditional electric lights, solar street lighting systems were the best option for the mining company.

After gathering all pertinent information pertaining to the mining company's lighting needs and requirements, SEPCO designed a system that combines our ultra-reliable off-grid, pole mounted solar power system with a very durable, high performance Genesis LED light fixture. These systems operate for a few hours after dusk during peak mine operation hours before automatically switching over to energy and cost efficient motion-activated lighting for the rest of the night. This lowered the overall cost of the project by having the lights only run when needed.

As indicated in the project photos, the mining company embedded our pole mounted solar street lighting systems inside a giant tire filled with concrete as the means to create a free-standing, completely portable industrial lighting system that can be quickly/easily moved with a forklift anywhere throughout the entire mining facility. A very creative application of off-grid solar lighting to be sure!

About SEPCO:

Solar Electric Power Company is a worldwide leader in outdoor solar lighting for over 20 years. SEPCO founder, Steve Robbins, invented the first commercial solar street light over 25 years ago. As demonstrated through thousands of projects around the world, SEPCO solar light systems feature rugged commercial-grade construction combined with unparalleled quality, performance, reliability, 25+ year system life expectancy and the best warranty in the business. Visit www.sepco-solarlighting.com for more details on how SEPCO can help you illuminate streets, roadways, parking lots, pathways, parks, signs and bus shelters with the clean power of renewable solar energy.


More from Electronic Components & Devices