Portable PCM Channel Analyzer with Flexible Control Modes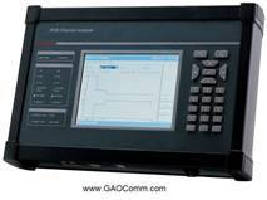 Toronto, Canada - GAO Comm (www.GAOComm.com) is offering its portable PCM channel analyzer which is intended for measuring PCM voice encoding and decoding performance characteristics. It is commonly used to examine PCM devices, digital switches, carrier wave communication devices and VoIP devices.

This portable PCM channel analyzer, model A0050003, integrates an analog signal generator/receiver, a selective level meter, a BERT, a signaling generator/receiver, a ring generator/identifier, a Dialer, a DC loop circuit (ICT, OGT), a balanced bridge and a reflecting bridge and other functions into a single instrument. It has built-in call set-up circuit which can set up testing channel directly by dialing on the tester without the need of a telephone. Its built-in generator and receiver, analog input and output interfaces work separately with ICT and OGT.

This large screen analyzer features flexible control modes and remote control signaling group. It performs equal step frequency spot sequence tests and customized frequency spots and selective frequency measuring on all frequency spots. The analyzer also compares the measured results with built-in standard ITU-T tolerance masks to evaluate whether the results indicate a pass or fail. Test results can be uploaded to a computer where they can be further viewed, analyzed, assembled, filed and printed via the included software. In addition, users can develop and design voice channel measurement/control systems under a variety of different conditions with remote control via USB or Ethernet interface.

This portable PCM channel analyzer belongs to GAO's family of E1 Service Testers. This line also includes E1/Ethernet Tester which is a comprehensive test tool for E1, V port and Gigabit Ethernet link maintenance and failure diagnosis and Portable E1/Datacom Transmission Analyzer which performs E1 frame data monitoring and analysis, dual E1 channel testing, loop delay, APS delay, pulse measurement, jitter measurement, signal level measurement.

For sales inquiries please contact:

1-877 585-9555 ext. 601 - Toll Free (USA & Canada)

1-416 292-0038 ext. 601 - All Other Areas

[email protected]

About GAO Comm

GAO Comm Inc. (www.GAOComm.com) is a well-known supplier of optical and electrical equipment and test instruments which are widely used in Telecommunications, CATV, Power industry and for Science and Research.