Ply-Guard EP - 100% Solids Epoxy Resin System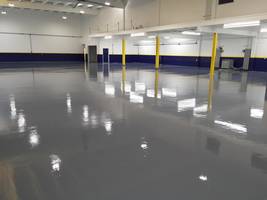 Polyset, a leading manufacturer of polymer materials, is proud to offer a low viscosity, 100% solids, self-leveling epoxy resin system that is used in a wide variety of floor coating applications. Ply-Guard EP can be used as a primer, finish coat, aggregate binder, slurry coat, or epoxy mortar. This material cures blush-free and provides an outstanding balance of physical strength, flexibility, and chemical resistance. Typical flooring applications include manufacturing facilities, warehouses, loading docks, commercial automotive facilities, aircraft hangers, and other areas requiring high performance flooring.
Ply-Guard EP has considerably lower viscosity than most competitive products providing improved handling at cooler temperatures and exceptional troweling characteristics. The lower viscosity allows for the addition of fine silica fillers for easy application of "slurry" type floors. A fast cure hardener is available when cold weather curing or accelerated room temperature curing is required.
Additionally, Ply-Guard EP displays excellent clarity for use over color quartz aggregate and decorative architectural concrete. The pigmented material features excellent hide and color consistency. It is available in 16 standard colors, plus black, white, and clear.
Kit Sizes
1 1/2 Gallons
15 Gallons
ABOUT POLYSET
Polyset is a technology-driven materials company with a philosophy of designing exceptional resin systems to meet the needs of the customer by maximizing the performance of the product within the cost parameters of the project.
As a global market leader for more than 30 years, Polyset's diversified product lines include polyurethane adhesive, elastomer and foam systems for the industrial air filtration industry, state-of-the-art expansion joint systems for the construction industry, protective coatings for the marine and offshore markets, and cationic catalysts for epoxy-curing applications.
Contact
Denise Czerpak
Polyset Company
65 Hudson Avenue
PO Box 111
Mechanicville, NY 12118
Related