PLC Weather Station Adds Monitoring Options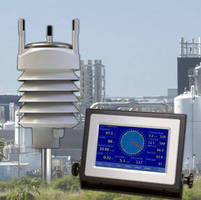 CWS's proprietary monitoring devices -- the Weather Display Console, WeatherMaster(TM) Software, and the Weather MicroServer(TM) -- are now compatible with the Orion 420(TM) Weather Station. The Orion 420 is used in facility management for companies including Intel and DuPont.

The Orion 420 Weather Station offers a complete weather station for industrial PLC interface. It features 4-20 mA current output from ultrasonic wind direction and speed sensors, impact rain sensor, plus humidity, temperature and barometric pressure. Weather data can be monitored and integrated with PLC software such as Wonderware®.

The Weather Display Console uses "intelligent" touch-screen technology to display weather information, perform complex computations and archive data.

WeatherMaster Software provides real-time weather monitoring as well as archival, graphing, alarm notification and automatic interface with CAMEO/ALOHA for emergency response.

The Weather MicroServer offers Internet-ready weather data, and additional industrial protocols, and additional sensor options.

Columbia Weather Systems is a U.S. manufacturer of industrial weather monitoring systems used around the world.


Related