Plant Engineering Nominates UP-LINK Remote Indication Fuseholder as Product of the Year Finalist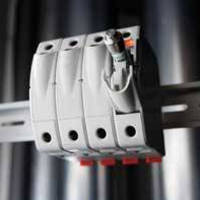 Chicago IL - Littelfuse announced that its Up-LINK remote indication fuseholder was recently nominated as one of the "Product of the Year" finalists by Plant Engineering Magazine. "It's an honor to be among the finalists for 'Product of the Year.' We know the Plant Engineering panel has a challenging task in selecting just a few finalists from many innovative and well-designed products and we are very proud to be nominated," says Maureen Janosch, Marketing Manager of Littelfuse POWR-GARD Electrical Business Unit.

The 22nd annual "Product of the Year" awards recognize outstanding achievements in product design and innovation. The finalists were selected from a pool of entries by the Plant Engineering panel of experts. "Innovation had an outstanding year, as represented by the 'Product of the Year' finalists," said editor Bob Vavra. "The 2009 finalists again show the willingness of manufacturing leaders to find better solutions to meet plant floor needs. Plant managers need to look at these products to find the best solutions to operate their plants smarter, safer and more efficiently."

The Up-LINK communicating fuseholder provides plant managers and maintenance personnel with remote fuse status indication, enabling them to monitor technology from remote locations and receive instant open-fuse notification. Further, the IP-20 touch-safe fuseholder minimizes exposure to live parts. This increases overall plant safety and efficiency. "The Up-LINK technology connects to an existing system through a PLC and offers a daisy-chain feature that requires only one I/O port for multiple fuseholders," explains Mike Swaim, Product Manager for POWR-GARD fuse products. "Plants that utilize the Up-LINK technology have been able to locate open fuses faster and reduce downtime by an average of 70%."

About Littelfuse

As the worldwide leader in circuit protection products and solutions with annual sales of $430.1 million in 2009, the Littelfuse portfolio is backed by industry-leading technical support, design and manufacturing expertise. Littelfuse products are vital components in virtually every product that uses electrical energy, including automobiles, computers, consumer electronics, handheld devices, industrial equipment and telecom/datacom circuits. Littelfuse offers Teccor®, Wickmann® and Pudenz® brand circuit protection products. In addition to its Chicago, Illinois, world headquarters, Littelfuse has sales, distribution, manufacturing and engineering facilities in Brazil, Canada, China, England, Germany, Hong Kong, India, Japan, Korea, Mexico, the Netherlands, the Philippines, Singapore, Taiwan and the U.S.

Product page:

http://www.littelfuse.com/Up-LINK.html?cm_mmc=Uplink+POY+Press+Release-_-LFdotcom-_-media%2C+newswire-_-Uplink+Page.

Related