Philips X-tremeVision LED Fog Lamps an Easy Upgrade for Popular Asian Makes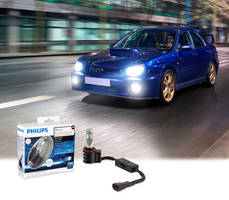 Simple plug-and-play install for late model vehicles from Acura to Toyota
Farmington Hills, MI - Lumileds, LLC, a division of Royal Philips (NYSE:PHG), offers expanded Asian make and model coverage for its innovative Philips X-tremeVision LED Fog Lamps. These advanced LED lamps are designed as an easy plug-and-play replacement for the H8, H11, and H16 halogen fog bulb applications found on popular late model vehicles from Acura, Honda, Hyundai, Infiniti, KIA, OldLexus, Mazda, Mitsubishi, Nissan, Subaru, and Toyota.
The Philips LED fog lamp delivers a bright, white 6000K light that matches perfectly with the color of Xenon and LED headlights and Philips CrystalVision ultra upgrade headlight bulbs. It features a patented, 'SafeBeam' technology that eliminates glare to other drivers by creating the same beam pattern as standard halogen fog lights. This technology ensures that the light emitted from the LED fog lamp is directed onto the road and not into the eyes of oncoming drivers.
Philips X-tremeVision LED Fog Lamps are made with an innovative AirFlux design, which provides constant cooling and ensures the highest light quality and longest possible service life. This design also leaves ample space for the best optical lenses available in order to deliver a smooth, inclusion-free beam with no shadowing effects. Philips X-tremeVision LED Fog Lamp is engineered for durability and reliability and built to deliver a 12-year lifetime.
Key applications include the following makes and models: Acura (CSX through ZDX), Honda (Accord through Ridgeline), Hyundai (Azera through Veloster), Infiniti (EX35 through QX 80), KIA (Cadenza through Sportage), Lexus (CT200h through RX450h), Mazda (2 through RX-8), Mitsubishi (Eclipse though RVR), Nissan (Altima through Xterra), Subaru (Crosstreck through XV Crosstreck), and Toyota (4Runner through Yaris).
For further information, please contact:
Dawn Gonzalez
Marketing Communications Manager
Lumileds, LLC
34119 W. 12 Mile Rd., Suite 102
Farmington Hills, MI 48331
Tel: (248) 699-2232
Email: dawn.gonzalez@lumileds.com
About Royal Philips
Royal Philips (NYSE: PHG, AEX: PHIA) is a leading health technology company focused on improving people's health and enabling better outcomes across the health continuum from healthy living and prevention, to diagnosis, treatment and home care. Philips leverages advanced technology and deep clinical and consumer insights to deliver integrated solutions. Headquartered in the Netherlands, the company is a leader in diagnostic imaging, image-guided therapy, patient monitoring and health informatics, as well as in consumer health and home care. Philips' health technology portfolio generated 2016 sales of EUR 17.4 billion and employs approximately 70,000 employees with sales and services in more than 100 countries. News about Philips can be found at www.philips.com/newscenter.
About Lumileds
Lumileds is the global leader in light engine technology. The company develops, manufactures and distributes groundbreaking LEDs and automotive lighting products that shatter the status quo and help customers gain and maintain a competitive edge. With a rich history of industry "firsts," Lumileds is uniquely positioned to deliver lighting advancements well into the future by maintaining an unwavering focus on quality, innovation and reliability. To learn more about our portfolio of light engines, visit lumileds.com. Lumileds is a subsidiary of Royal Philips. (NYSE: PHG, AEX: PHIA).
Related