Pennsylvania Ambulance Company Recommends Videotel Digital VP90 Digital Signage Media Player for Patient Safety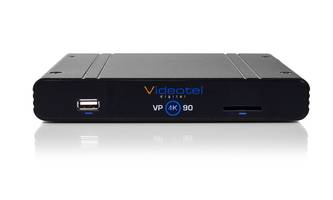 SAN DIEGO, CALIF. (PRWEB) NOVEMBER 05, 2018
Healthfleet Ambulance is the latest in a long list of Videotel Digital customers who enjoy the ability to seamlessly display content digitally. Now well-equipped to take information to their busy staff who transport patients to hospitals, nursing centers, and health systems, the company released a statement in praise of the VP90 4K Network Digital Signage Media Player. The VP90 auto powers on, auto plays, and auto loops audio, video, image files, or a mix of files. Users simply upload and update content remotely via a network Ethernet. With no software license fees or requirement to author content, the VP90 comes ease and affordability.
Ted Brown of Healthfleet Ambulance said of the "As a medical transportation company we needed to keep our field staff informed about safety videos and up to the minute messages. To accomplish that we needed several monitors to run continuously. I contacted Videotel, and within just a few days, our system was up and running. The VP90 allowed me to upload videos from anywhere, anytime."
The VP90 4K/1080 Network Digital Signage Media Player comes with a pre-installed micro SD, a WiFi optional antenna, and a multi-function remote control. It also comes with a 5VDC external regulated USB power supply, a five-foot-high shielded HDMI cable and a 3.5mm to male RCA audio and video cable. The one and one-eighth inch high digital signage media player has eighty-eight language options and a two-year warranty. The VP90 plays content from a USB, SD, FTP or LAN. Choose to use your own content or use Videotel's free web server of an array of templates, or customize your own with unlimited zones.
Lisa Schneider, VP of Marketing & Sales for Videotel Digital said, "It's great to know that our company is lending a small hand in optimizing patient safety. We're delighted to help Healthfleet Ambulance do a tremendous job in their particular area of expertise."
For more information about Videotel Digital visit http://www.videoteldigital.com.
About Videotel Digital: 
Videotel Digital is a leading manufacturer of Industrial Digital Signage Media Players, Industrial Looping DVD Players, and Interactive Digital Signage Solutions. The industry leader services numerous industries from retail to healthcare, educational concerns, hospitality, events, and museums among others. Videotel Digital Industrial Audio/Video products provide convenience with features such as Auto Start, Auto Play and Auto Loop. The products also seamlessly Auto Repeat for continuous play without manual interaction.
About Healthfleet Ambulance: 
Healthfleet offers numerous services as well as dispatch services on a twenty-four hour, seven-day a week basis, including major holidays. Their management team maintains significant experience in the provision of multi-level services programs to major hospital systems. They are experienced in providing services for special needs patients such as bariatric patients as well.
Information: 
Videotel Digital 
681 Anita Street Suite #104 
Chula Vista, CA 91911
Contact: 
Lisa Schneider 
VP of Marketing & Sales 
lisa@videoteldigital.com 
(619) 670-4412
Websites: 
http://www.videoteldigital.com 
http://healthfleetambulance.com/
More from Electronic Components & Devices